When you are looking for devices for testing electronics, you will find a wide range of testing equipment like voltmeter, ammeter, ohmmeter, etc. that can be used to check different aspects of a typical wiring connection like current, resistance, and voltage.
One of these devices, the ohmmeter, can be used for circuit testing. However, choosing the right device for the job is not an easy one. And if you want to be a skilled technician, you need to know a lot of different aspects of a typical ohmmeter.
Before we dive into some of the top ohmmeter devices in the market today, let us first understand what this device is. According to the definition, an ohmmeter is an electronic device that is mostly used to calculate the electrical resistance of a circuit; its unit of measurement is done in ohms.
The resistance of an electrical circuit can be calculated as how much flow of current is being resisted by the object.
You will find a lot of different ohmmeters available in the market, based on their sensitivity levels, like milli, micro, and mega. All these types have different functions – for instance, a micro- ohmmeter is used to calculate extremely low resistance very precisely and is mostly used in bonding contact applications.
BEST OVERALL
AstroAI Digital Multimeter
Accurately measures AC/DC Current, AC/DC Voltage, Capacitance, Frequency, Duty Cycle, Resistance, Diode, Continuity and Temperature
Features: Data Hold, Large LCD Backlit Screen, Auto Shut-off, Hanging Magnet, Kickstand
SAFETY: Built-in F400mA/600V and F10A/600V explosion-proof ceramic fuse tubes; Double Protection, more secure and reliable
The AstroAI digital multimeter/ohmmeter is considered a top-rated choice for measuring the resistance of an electrical object. Apart from allowing you to make measurements, this device also stores the data for later viewing. Apart from resistance, the AstroAI ohmmeter can also measure other electrical values like continuity, current, resistance, temperature, and voltage.
Best features
The AstroAI ohmmeter is fitted with all types of features, which make it perfect for both beginners and professionals. The automatic range capability and the effective value functions will provide you with a lot of benefits for any type of task. Hence, you will also be able to measure the current and AC voltage of a power circuit.
Apart from the obvious high-end features, the AstroAI ohmmeter is also packed with some very important accessories. Inside the box, you will find a pair of test leads, a k-type thermocouple, and a multi-function plug. Thanks to these additional accessories, you will not have to make additional purchases.
The AstroAI ohmmeter is one of the most reliable and safest tools; you can easily obtain protection from all types of overloads. At the same time, the large ceramic fuse is also explosion-proof. In short, it will be one of the best investments that you can make.
The AstroAI ohmmeter is packed with a lot of useful features
The tool is very durable and perfect for professional use
The functionality and configuration processes are very easy
The device is capable of retaining data in its memory
Getting used to the AstroAI ohmmeter takes time
While this device is considered the best, it is also quite expensive
---
BEST VALUE
Fluke 117 Electricians True RMS Multimeter
VoltAlert technology for non-contact voltage detection
AutoVolt automatic AC/DC voltage selection. DC millivolts – Range : 600.0 mV, Resolution : 0.1 mV
Low input impedance: helps prevent false readings due to ghost voltage
True RMS for accurate measurements on non-linear loads. Operating temperature:-10°C to +50°C.
The Fluke 117 is considered a well-priced and reliable digital multimeter/ohmmeter that is mostly used for light and domestic industrial uses and hobbyists. This device is a part of the 110 series and is quite sturdy and compact, which is quite surprising if you consider the pocket-friendly price rate. It is also fitted with several impressive features.
Best features
The Fluke 117 is the top of the Fluke 110 series of multimeters. It is fitted with all the functions seen on the highly-rated 115 models, with the addition of a quick voltage detection system called VoltAlert.
This device is fitted with an ergonomic chassis, which allows you to hold the Fluke 117 in the palm of your hand. Additionally, the ohmmeter is also fitted with a large backlit display area.
The Fluke 117 covers all basic measurements like frequency, capacitance, continuity, resistance, and AC/DC amperage and voltage. The most important of the test criteria is the device's CAT III rating, with a higher limit of 600V. Thanks to this aspect, you will have the ability to analyze control panel boards, appliances, outlets, and switchgear (both single and three-phase).
While it would have been better if the Fluke 117 was packed with a case, the components included are a manual, leads, and holster. The manual will help you learn how to use the device, even for beginners.
The Fluke 117 is small and, hence, portable
The device is fitted with several features like non-contact voltage detection and auto-volt settings
You can easily measure non-linear loads with utmost accuracy
The price of the device is very pocket-friendly
There is no micro- or milli-amp range
The hold function is very fidgety
---
BEST CHOISE
Signstek MESR-100 V2 Low Ohm Meter
Using true 100 KHz sine wave to measure the ESR value
Measuring range from 0.001 to 100.0R, support IN CIRCUIT Testing
Auto-ranging capacitor ESR and Low Ohm Meter
Dual terminal, for fast and easy inspect general capacitor or resistor
The Signstek MESR-100 is one of the best-selling ohmmeters in the market today and is a top choice for working in professional environments. This device will provide you with accurate readings, which makes it a great choice. The device is very easy to understand and use, reliable, and safe.
Best features
The Signstek MESR-100 is an advanced ESR reading device that will provide you with a very accurate 100KHz sine wavemeter, which is void of any type of fluctuation. The device does not weigh more than 288g, which makes it easy to carry around in tough work environments.
You just need two AA-size batteries for powering the device. Alternatively, you can also connect it to your computer or laptop via the USB port.
This ohmmeter is very easy to understand and use and fitted with an
LCD
that will show you the results with clarity. You will also get an
ESR parameter table guide
that will help you get your work started.
The Signstek MESR-100 offers a wide range of measurements and is also fitted with an auto-ranging facility. All of these features make it one of the top devices that you will see in the hands of most pros.
The readings of the Signstek MESR-100 is very accurate and precise
Compared to other meters, this device is quite lightweight and portable
The Signstek MESR-100 is quite affordable
Used mostly by professionals
Since the Signstek MESR-100 is mostly used by professionals, beginners can have a difficult time learning how it is used
The overall built quality could have been better
---
BEST FEATURES
Tekpower TP8260L Analog Multimeter
High accuracy & Ideal for AC and DC Voltage DC Current up to 10A
Back light for use in dark, Decibel Value Measurement, Zero Adjustment
The Transistor checker with PNP & NPN types and LED inidicator
Confirms to the EN61010/IEC1010 standard CAT II 600V, 20Kohm/V,DC, 8Kohm/V AC
The Tekpower TP8260L is a multimeter that is fitted with a lot of features. It is quite a popular and useful analog device that is mostly used for measuring DC amperage, voltage, and resistance. The build quality is great and the large screen will allow you to read the measurements with ease.
Best features
The Tekpower TP8260L is more like an old-school type of multimeter that also functions as an ohmmeter. The hands-on device will show you small resistance measurements and fast-changing voltage sweeps. Overall, operating this device is very easy and the measurements are very accurate.
The Tekpower TP8260L is capable of measuring up to 1000V; since it is not a True RMS responder, you will just get a sine wave instead of an accurate AC reading. The device can also measure DC-current up to 10A, thanks to the µA/mA range. The continuity checker is at low resistance and the device also offers a good response time. The decibel range is between 0 and 22db.
Perhaps, the most useful feature of the Tekpower TP8260L is the resistance scale, which allows you to measure even the smallest changes in the measurements. Thanks to the large screen, you will be able to spot these differences. Also, the zero calibration adjustment will further provide more accuracy at low-resistance readings.
The Tekpower TP8260L has quite a durable build and made to last
Viewing the smallest changes is very easy
The needle action of the device is smooth
The large range makes it perfect for people with eyesight problems
There is no option for AC amperage range
The screen is prone to damage
---
BEST PORTABILITY
Sonel MMR-640 Low Resistance Ohmmeter DLRO 10A
Measurement of very low resistance
High immunity to disturbances
Easy operation, big touchscreen
Automatic measurement mode, autoranging
The Sonel MMR-640 is a portable ohmmeter that is particularly helpful when it comes to measuring the smallest change in resistance on electrical objects like bolted, soldered, welded connections; additionally, you can also use it for equipotential bondings, earthing conductors, contacts, and breakers.
Best features
The Sonel MMR-640 is an auto-ranging ohmmeter that also features an automatic measurement mode, which makes this device very easy to use. Apart from being simple to understand and use, the Sonel MMR-640 is also packed with a lot of different features like a large touchscreen display, advanced data management system, and a modern user interface; the display is very comfortable to read.
Furthermore, this ohmmeter is also fitted with a
waterproof and durable casing
that provides added protection, thereby allowing you to use it in the roughest environments. The Sonel MMR-640 is highly immune to disturbances and the high performance ensures that you get reliable and accurate results.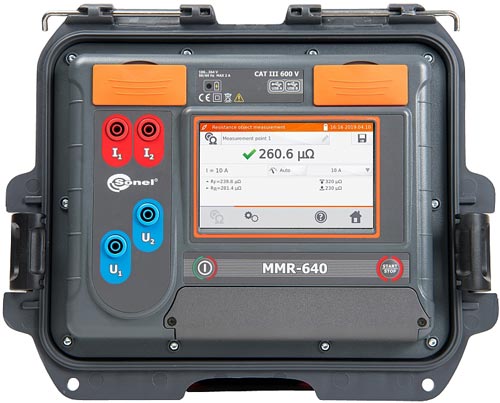 The Sonel MMR-640 is fitted with automatic measurement mode and a modern user interface
The touchscreen display is large
The auto-ranging ohmmeter is best suited for quality control application
The device is extremely immune to any type of disturbance
The Sonel MMR-640 is one of the more expensive ohmmeters in the market
While the device is portable, it is also quite fragile
---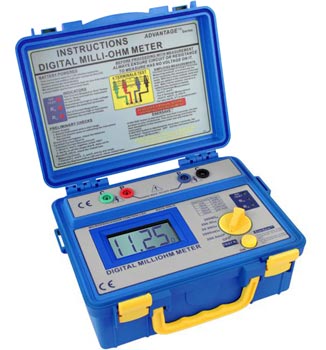 EASY TO USE
Peaktech P1125 Digital Milli-Ohmmeter Milliohm Tester DLRO
Over-Temperature and overvoltage protection
Auto-hold and Auto-off function
LED Indicators show if reading may be invalid Rp, Rc and Temperature
Safety: EN 61010-1; CAT IV 20 V
The Peaktech P1125 is an easy-to-use ohmmeter that is specifically useful for measuring the very low resistance of any resistive electrical component. This device is used for a lot of different purposes like bolted connections, soldered and welded connections, loose wiring bondings, contacts, and breakers. This device is mostly used by professionals; however, it can also be used by beginners.
Best features
The particular ohmmeter is quite capable of measuring between 100μΩ up to 2000Ω. The measurements will be displayed on the large LCD. All you need to do is keep passing a constant current through the device and then make a note of the reading you will see on the screen.
The Peaktech P1125 is fitted with a lot of different protection features that will safeguard you and the device from the dangers of over-voltage and over-temperature. Additionally, there are also the auto-off and auto-hold functions that will switch the device off if not being used for some time.
Additionally, the device is also fitted with LED indicators that will show you if the readings are valid or not. Since it is so easy to use, the Peaktech P1125 is one of the best ohmmeters available in the market today.
Using the Peaktech P1125 is extremely easy
The device is fitted with several protective features
The device switches off automatically if not used for some time
The readings on the ohmmeter are very accurate
The build quality of the Peaktech P1125 could have been better
The company is known for poor customer support
---
Types of ohmmeters
There are three main types of ohmmeters; here is a brief description of them:
Series type ohmmeters
In series type ohmmeters, the components that you want to measure can be connected with the meter in the series. The value of the resistance can be derived via the shunt resistor (R2); you can make use of the D'Arsonval movement, which is connected parallel. The resistance of the R2 can also be connected in series with the battery as well as the resistance of the R1. The two terminals, A and B, are where the measuring component is connected.
You will see a significant flow of current through the meter whenever the value of the measuring component is zero. In cases like these, you can correct the shunt resistance; however, the meter needs to specify the full-load current as well. The needle will turn in the direction of 0-ohms for this current.
The circuit resistance and flow of the current will turn unlimited whenever you disconnect the measuring component from the circuit and you will see that the needle will move towards infinity. The needle will turn towards the right if the resistance is too low.
Shunt type ohmmeter
The calculating component is connected with the battery in parallel can be done with the help of a shunt type ohmmeter. This device is mostly used to calculate low-value resistance. This circuit can be built with a measuring component, a battery, and a meter; additionally, the measuring component can be connected to the A and B terminals.
The current of the meter will turn zero if the resistance value of the electrical component is zero. In the same way, the flow of the current through the battery, and the deflection of the needle will be towards the left when the resistance of the component becomes vast.
Multi-range ohmmeter
The range of a multi-range ohmmeter is, as the name suggests, is very high. This meter also includes an adjuster that will allow you to select specific meters based on what you require.
For example, let us consider that you want to calculate the resistance below 10-ohms. Hence, the first thing you need to do is fix the resistance value to 10-ohms. The measuring component is connected with the parallel meter and the magnitude of the resistance will be seen on the deflection of the needle.
---
Buying Guide
When you are looking for the best ohmmeter in the market, you must prioritize performance. This way, you will find value in making that purchase. Here are some important considerations that you need to remember while looking for the best ohmmeter in the market:
Auto-range
Likely, you do not know the exact range of the electrical resistance that you wish to test. In this case, it is important to look for an auto-range ohmmeter, rather than the one with a manual range option. An auto-range ohmmeter will typically locate the electric resistance within a specific zone, thereby providing you with accurate readings and saving time as well.
Probe
A probe is considered an important component of an ohmmeter since it dictates how efficient and fast the testing will be. While some simply work by contact, others need to be attached to the object that is being measured. Probes are very sensitive and will provide you with fast readouts. Since the testing needs to be free of any hassles, it would be better to look for an ohmmeter that is fitted with probes.
Input impedance
When we talk about input impedance, we talk about the expected impact that an ohmmeter will have on the circuit. That being said, the resistance of the device will drop if the input impedance falls; as a result, it will lead to false reading and/or a ghost voltage registration. It is recommended that you opt for something with a high input impedance as you will get accurate results and will not interfere with the voltage.
Warranty
Any decent ohmmeter manufacturer will provide you with warranty coverage for their ohmmeter products. While some are limited up to certain months or years, others provide a lifetime provision. Whatever warranty you get, you need to ask the manufacturer what types of defects are covered for. Of course, expensive models have more promising potential.
Price
The cost of the ohmmeter is not easy to overlook since it is one of the deciding factors. Mostly, these devices can have a price range of between $20 and $200. However, you should also remember that costlier devices will be fitted with more features and will have better performance. Overall, it will depend on how much money you are willing to shell out.
Convenience features
Several features make the performance and operation of ohmmeters better like hanging strap, auto power-off, data hold, LED-backlit, etc. These features will determine the overall price of the device. Hence, you need to consider them very carefully. Look for specifications to that you choose an ohmmeter that has convenience features that will suit your needs and preferences.
---
FAQs
Here are some common FAQs related to ohmmeters:
What is an ohmmeter?
An ohmmeter is a diagnostic tool that is used to provide valuable information about electrical systems and appliances. This device is capable of measuring electric resistance, which is measured in ohms. An ohmmeter will help you look for and troubleshoot specific electrical problems with utmost accuracy.
Why do you need an ohmmeter?
There are many reasons why an ohmmeter is a useful tool to include in your kit. This device will provide you with accurate readings and the corresponding data can be used to point out the exact areas in your electrical fixture or equipment that requires fixing. Additionally, an ohmmeter is the safest tool that can be used to measure the resistance of an electrical object.
How does an ohmmeter work?
An ohmmeter is fitted with a set of prongs that are used to record the electronic feeds. These prongs are very sensitive and will record even the smallest electrical resistance. The recorded data will be shown on your display screen.
Why should you look for digital ohmmeters instead of analog ones?
Digital ohmmeters are the same as analog ohmmeters when it comes to functionalities. However, digital ohmmeters are fitted with an LCD where you can read the data, instead of pruning over the screens of analog ohmmeters and having to guess the reading. Additionally, digital ohmmeters will also allow you to download the data into your laptop or computer.
What things should you consider while looking for the best ohmmeter?
Yes, there are a lot of important factors that you need to consider while looking for the best ohmmeter. However, some basic ones include the ability to deliver accurate and clear readings, impressive warranty, battery indicator, data hold, and auto-range.
---
Best Ohmmeter – Conclusion
Ohmmeters are considered some of the most useful tools that can be used for both home and outdoor purposes. Based on what you are looking for, various types of these devices are available to suit all sorts of requirements.
With the help of this article, you should gain a better concept of what these devices are and what they are used for. The above-mentioned ohmmeters are rated as some of the best in the market today. It is recommended that you compare the appliances and read the buying guide mentioned above. You will land with the best ohmmeter.
Did you like our Best Ohmmeter review? Please let us know and don't forget to check our other reviews.
Digital Oscilloscope review – could be interesting for you!