Whether you are working as a lab technician, an electrical engineer, or as a homemaker, with a high-quality DC power supply, you can get reliable and clean energy whenever you need it. From charging a computer to powering a huge ship, power supplies find usage in a wide variety of applications.
A power supply converts the power generated from an electrical source into voltage and transfers it to the circuit board of a device. Currently, there are many types of power supplies available, and your choice should depend on whether you need to convert power or regulate energy.
By purchasing a high-quality DC power supply, you can prevent your system from getting overloaded or overheated while protecting the voltage at the same time. These days, many companies are selling DC power supply units at a wide range of prices, and as such, it can be difficult to choose a model that's affordable and powerful at the same time.
Let us create a comparison table to try and understand the specifications of DC power supplies:
BEST OVERALL
Siglent Technologies SPD3303X-E Triple Output Power Supply
3 independent controlled and isolated outputs
32V/3. 2A x 2, 2. 5V/3. 3V/5V/3. 2A x 1, total power: 220W
Timing output function. Trending graphs
USB / LAN interfaces
Siglent is one of the companies that are trusted by engineers and technicians all over the world. The SPD3303X-E model weighs just 17.6 pounds and has three output channels, namely parallel, series, and independent.
Best features
This DC power supply unit has a large 4.3-inch screen that displays the waves in real-time, and this provides you value for money. If you need to run tests frequently, this model is perfect for you, since it has five sets of memory recall/save functions. Additionally, it provides you with a maximum power of 220 Watts, which is quite substantial compared to other products.
You have the option of adjusting both the outputs, and for one of them, you can select from 5 V, 3.3 V, and 2.5 V. Furthermore, the system has an in-built overload and short protection mechanism, that is quite useful when you are working in the field and the conditions are stressful.
Since the SPD3303X-E is compatible with different voltages, you can meet different power grid requirements with it. It is also fitted with a noise-reduced fan with temperature control features, and a lucid user interface where you can display the waveforms. The data storage functionality is expandable, so you can store quite a lot of information on this device.
This Siglent model is
compatible with PC software
and you can connect it to a computer using LAN and USB. Since it is a compact and portable device, you can effortlessly work with it on the go. It can process SCPI commands and has a LabView driver included.
3 isolated outputs available
PC software included with the product
TFT-LCD display shows the readings clearly
Third channel malfunctions occasionally
A resolution could be better
---
BEST LOOKING
RockSeed Programmable 30V/10A DC Power Supply
Higher Sensitivity & Precision
High-Quality & Multiple Protections
Constant Voltage & Current Current Operation Mode
List Programmable Sequence Output & Timing Loop Output Function
This programmable power supply from RockSeed is ideal for production lines, schools, as well as laboratories. You can frequently adjust the output current and voltage values, and the device can also make an adjustment by sensing the location of current and voltage. With its decent ripple coefficient and stability, it can accurately detect the locations of both.
Best features
The safety features of this DC power supply are what make it stand out. It is protected against short-circuit, overheating, overpower, and over-current. The in-built fan is characterized by low ripple and low noise, and this can extend the product life significantly. Additionally, the voltage, power, and current are displayed by the power supply variable at the same time and you also have the option of locking the keyboard so that no misoperation can take place.
This RockSeed model has a rotary knob using which you can adjust the current and voltage data accurately. Thus, you can easily set the required output. Temperature is controlled intelligently and efficiently by the fan, while the solar heat dissipation functionality makes sure the device does not get overheated.
This DC power supply unit comes with computer software that works on the latest Windows operating systems. You can pre-set the current and voltage minus load using 6 different parameters. It has all the sophisticated functions that make it ideal for laboratory work.
Current and voltage are displayed with high precision, thanks to the 4-digit LED display. Double potentiometer adjustment can be made by accurately sensing the current and voltage location. Moreover, you can set the time and parameters as per your requirements, which makes this device highly convenient. Also, it is possible to configure up to 999 data sets by connecting the device to a computer.
The small dimensions of this DC power supply unit make it lightweight and portable, so you can easily work with it outdoors. If you wish to supply a charge to an instrument that needs repairing, you can do so via the adjustable power supply.
Side and rear cooling offer better thermal protection
The user-friendly operation made possible through special buttons and knobs
High-precision 4-digit LED display
Does not work properly with Windows 10
Loud clicking sound while ramping up the device
---
BEST DESIGN
Flycow DC Power Supply Variable Kit
Constant Voltage and Current Operation Mode
Quality Components and Safety
Lightweight Design,Easy to Carry
5V USB port output
This DC power supply kit from Flycow is a device you can use effortlessly in production environments, testing, home, school, and laboratories. It is a highly accurate and sensitive instrument that lets you continuously adjust the current from 0 to 10 A and the voltage from 0 to 30 V.
Best features
With this device, you can easily adjust the current as per the appropriate voltage range, and by disconnecting and accessing the various components of the circuit, you can witness the shift in voltage and current.
The Flycow DC power supply has a built-in ground wire for safety. Moreover, it has an internal fan that allows you to reduce noise while you are working with the instrument. The device is also protected against overload, short-circuit, and thermal conditions.
It is easy to get the readings from this DC power supply unit, thanks to the 3-digit LED display with high resolution. You can easily view the readings even in low-light conditions since the screen has a high brightness setting.
Along with this unit, you get a user manual with clear instructions on how to operate it. Input and output power cords and power host are also provided with this unit. Furthermore, there is a warranty card that lets you avail of customer support and service. Last but not the least, the 5 V USB output allows for quick charging of the device.
Easily adjustable output current and voltage
High-end safety features allow for safe and hassle-free operation
Large LED screen with high brightness
Not the most durable device
The power cord is a bit flimsy
---
BEST FUNCTIONALITY
UNIROI 0-32V / 0-5.2A 4-Digital Power Supply
Constant current at constant voltage
The overall efficiency is increased to 70%
Constant voltage and current operating mode (automatic C.C and C.V. conversion)
DC power supplies are FCC certified
This is a highly accurate and easy-to-use device that provides a stabilized supply of voltage and current. It features a 4-digit LED display which makes it easy for you to note down the readings. The unit has an accuracy of 0.001 A and 0.01 V.
Best features
The UNIROI DC power supply unit is able to dissipate heat efficiently, thanks to the smooth ventilation and the in-built fan that provides adequate cooling. The knobs are quite easy to operate and are uniquely designed to help you select measurement function gear.
You can start using this device without any prior adjustment or configuration. It comes with a standard jack that you can connect to the current output port, and a 4-digit LED display with a large screen that makes it easy to measure data level function.
This DC power supply device is
GPS series adjustable
, which makes it suitable for the production line, educational purposes, aging test, and laboratory. You can easily change the output current and voltage from 0 to maximum value.
Sound-off functionality for noiseless operation
Large screen allows for viewing the readings in high definition
Automatic exhaust provides efficient ventilation and heat dissipation
Banana plugs not provided
Knobs are a bit too sensitive
---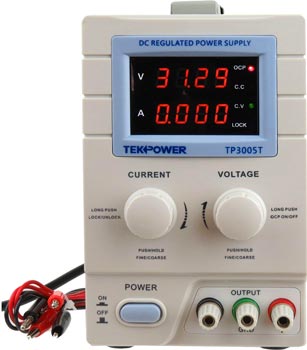 BEST PERFORMANCE
Tekpower TP3005T Variable Linear DC Power Supply
High precision DC regulated power supply with 0-30 volts and 0-5 amp outputs
Two operational modes
Cooling fan automatic activation by built-in thermo-sensor
1-year manufacturer's warranty
This is a heavy-duty and bulky device that provides reliable and accurate performance for various applications in Research and Development centers, research centers, industries, and laboratories.
Best features
The Tekpower TP3005T can operate in current and voltage modes, and it has a regulated power supply that's highly precise. There are rotary switches on the device using which you can regulate current and voltage. Additionally, it has a cooling fan that is fitted with a thermal sensor, so the device gets cooled intelligently.
This DC power supply unit has a linear design that allows for stable and quiet operation with minimal delay and ripple during adjustment, transformation, and conversion. It's a powerful device with a maximum current output of 5 amps and a maximum output of 30 volts.
Other notable features of this device include dual operational modes, high resolution LED display with a backlight, +-2% LCD accuracy, etc. It also lets you program the current and voltage as per your requirements.
For protection purposes, the device has a high current limiter as well. You also get a 1-year warranty with the product, so you can get a replacement for free if the device breaks down within this period.
Dual operational modes
A thermal sensor attached to the cooling fan
Noiseless operation
Emits a strong smell for the initial few days
A bit expensive
---
BEST PRICE
Korad Technology KD3005D DC Linear Power Supply
Precision instrument with many features
4 digits readings with back-lit LED display
High-quality with essential safety
Constant voltage & current operation mode
Korad is one of the brands that electrical engineers swear by, and it doesn't disappoint with the KD3005D model. It is a highly precise instrument that is stacked with features and is easy to set up with the help of the adjustment knobs. Using these knobs, you can switch between fine and coarse adjustments.
Best features
The KD3005D has a compact design and a 4-digit LED screen that allows for clear visibility, so you can always check the current and voltage value, even in a dark environment. On this device, there are four indicator lights for a lock on/off, constant voltage, constant current, and over-current protection.
It is an extremely safe unit to use in any environment since it is protected against short-circuit, voltage overload, current overload, as well as overheating. There is a variable fan inside the instrument that extends the product's life and allows for noiseless operation. You can also use the lock function if you wish to prevent changes to the reading via accident.
With the KD3005D, you can automatically switch between ampere and milliampere display. Apart from the power supply device, you also get a set of test leads, a power cord, and a user manual with detailed instructions.
Comfortable operation
Dual switching modes available
Lock function available
Parameters are of fixed length
The display is not so bright
---
BEST DURABILITY
Kungber DC Power Supply
High Precision with 4-Digit and Power Display
Constant Voltage (C.V.) & Current (C.C.) Mode Automatic Conversion
Compact and Various Application (less than 3 lb)
Reliable and Safety
This DC power supply unit from Kungber has been upgraded several times and features a compact frame and a solid metal body. High-quality materials have been used for making this device, which means its reliability and accuracy are more compared to others.
Best features
Since the device's circuit has been upgraded, it gives better protection against leakage, overheating, short-circuits, and overload. Due to the automatic conversion feature, it is possible to switch the constant current/voltage with the changing loads. The LED display panel reflects this conversion.
This is a compact device weighing only 3 pounds, which means you can use it for a variety of applications such as battery charging, age testing, lamp testing, brush plating, electroplating, electrolyzation, repair work, etc. You can even use the USB port for charging your phone or supplying power to a device you are fixing.
In case the temperature of the device exceeds 122 degrees Fahrenheit, the cooling fan will be activated by intelligent thermal protection, and the temperature will be lowered as per the load. The company provides lifetime support for this product, so you can get in touch with them anytime if you face any issues.
A lightweight device that's easy to carry around
Intelligent thermal protection prevents overheating
Automatic switching between constant current and voltage
Difficult to make small adjustments
Unstable power supply
---
Best DC Power Supply – Buying Guide
In order to purchase the right DC power supply unit for your home or laboratory, you need some product knowledge. But just knowing about the various options available is not enough, and you also need to know about certain key factors related to these instruments. Here are some of the factors you need to consider before investing in a DC power supply device.
Linear output regulation
While switching supplies are more compact compared to linear supplies and have a wider range of features, if you are performing benchtop work, then you are better off using the latter. Compared to switching power supplies, the output noise for linear supplies is much lower.
Constant Voltage/Current
DC power supplies having this characteristic supply both constant voltage and constant current, and they are very much in demand. During constant current operation, then the set current is maintained irrespective of the fluctuation in load resistance. These devices also have analog programming, remote sensing, master/slave connections, and other useful features.
Multiple outputs
During testing operations, you might need to use multiple voltages and that is where multiple output power supplies come in. While buying such a device, however, you should search for one with isolated outputs, because this allows them to work in parallel or separately. Some of them also have a tracking mode where you can use a single control to direct both the outputs.
Control flexibility
You can get more productivity out of a device that is easy to set up. If you are using a device for laboratory purposes, you need separate controls for current and voltage. The fine-tune or multi-turn controls should be such that you can accurately set the voltage without much difficulty.
Some devices also have the locking functionality that lets you lock the current and voltage settings to values of your choice. This way, even if you touch the knobs by mistake, the settings won't be modified. Another feature you should look for is the span control of the voltage output that lets you protect the circuit by setting the minimum and maximum values of voltage.
PC controls
You can find programmable DC power supply devices that are used in tandem with computers for production and testing purposes. These devices use interfaces like Ethernet, USB, and serial communications for interacting with computers.
You can also send instructions to the devices through the digital interface with the help of command languages. If you are working with complex systems you should go for a programmable device and transfer the instructions through the computer instead of pushing the buttons of the device.
Noise and Ripple
Sometimes, due to internal switching mechanisms, an output voltage is obtained and this is known as a ripple. You stand the risk of getting false readings in the frequency domain due to ripple action. Noise occurs due to voltage spikes occurring frequently and this leads to a small increase in the baseline.
Thus, it is important to take measurements in similar loading conditions to minimize the ripple effect. The input voltage can also affect ripple, so you should test the device at different voltages as a precaution.
---
Types of DC Power Supplies
DC power supplies can be categorized into the following types:
Linear Power Supplies
These devices supply DC output after accepting AC input and are used for industrial and home applications. The active element is these devices allow you to get the required voltage.
Regulation of this voltage is achieved by releasing additional input power in the form of heat. This heat is stored inside a resistor, and it leads to enhanced power regulation. Such devices also emit very little noise and are characterized by small ripple.
Switching Power Supplies
Switching power supply units provide the necessary voltage using a regulator or a switching element. Inside these devices, there are certain components that constantly switch between on and off modes at high frequencies.
This leads to the capacitors and inductors being disconnected and connected from the source of the input voltage or the device consuming output power. These devices consume less power and provide the same power output in a more compact frame, compared to linear power supplies.
SCR Power Supplies
These power supply units feature rectifiers that are controlled through silicon. They provide regulated current and voltage output. When you have to deal with high currents and voltages, it is better to use an SCR device.
---
Best DC Power Supply – Conclusion
Hopefully, after going through the list of different DC power supply devices and their features, you are better equipped to make a purchasing decision. With a high-quality DC power supply device at your disposal, you don't have to worry about power shortages anymore. Remember, you should always consider the purpose for which you plan to use the device.
Did you like our Best DC Power Supply review? Please let us know and don't forget to check our other reviews.
Best Automotive Oscilloscope – could be interesting for you!