Logic analyzers are testing appliances that are mostly used to evaluate complex logic circuits. They convert the data received into state machine traces, timing diagrams, and protocol decodes. These devices are also used to correlate assembly languages with source-level software.
These analyzers are fitted with advanced triggering capabilities that allow you to perceive and analyze timing relationships between separate digital signals. While oscilloscopes can be used instead of a logic analyzer, they cannot maintain the relative timing when there is an enormous influx of signals.
Logic analyzers will show you traces of many digital signals at the same time so that you can monitor and investigate them simultaneously. They are fitted with a wide range of configurations ranging from traditional to modern technological fits that provide these devices with a wide range of processing capacities and flexibility.
These devices are designed to monitor 32 to 200 (+) channels at the same time. Because these appliances can handle so much load and lines of digital signals, you can use them to track and find faults in complex systems. The vertical and the horizontal axis can be used to indicate the high and low states (respectively) on the display screen.
The digital signals enter the analyzers via different channels and are transformed into high or low states for advanced processing. While you will find a lot of different variants of the appliance in the market, they are mostly classified into three different categories – PC-based logic analyzers, portable logic analyzers, and modular logic analyzers.
These devices look great and can be used for analyzing logic with several controllers like Mixed-signal processor (MAP), Peripheral interface controller (PIC), Arduino, and Raspberry Pi. Logic analyzers will provide you with a comprehensive view of the processing operations and data movement within several embedded systems at the same time.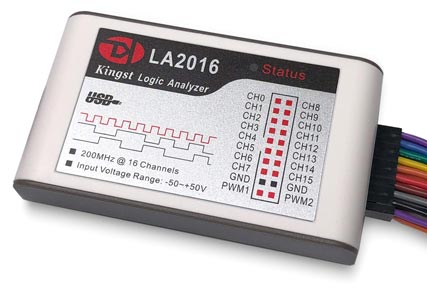 BEST OVERALL
LA2016 USB Logic Analyzer
Input Channels Number: 16, Max Sampling Rate: 100M@full 16 channels
USB2.0 Interface, Max Sampling Depth: 10G
Max Input Voltage: -50V ~ +50V / 1Gbits Memory
Adjustable Threshold Voltage: -4V ~ +4V step: 0.01V
PWM Frequency Range: 0.1 ~ 20MHz / PWM x2
The LA2016 is considered one of the top and most competent logic analyzers in the market today. All channels can operate with a sampling rate of 500 Ms/s, which makes this analyzer capable to detect and analyze a pulse width of 6.25ns. It is made of weather-grade plastic.
Best features
The appliance's hardware sampling depth is 50 M/channel, along with a maximum compressed depth of 10G/channel. While the device is quite small, it can easily support a wide range of communication protocols like UN I/O, PS/2, LIN, SDIO, USB 1.1, Parallel, NEC Infrared, 1-wire, Modbus, CAN, 12S/PCM, 12C, UART/RS-232/485, HDMI CEC, DMX512, and JTAG.
Since the analyzer is quite small and compatible, it is very lightweight and can be carried around with ease. In most cases, the operating voltage may vary between 0 and 5.5V. The device can easily detect and analyze 16 channels at the same time.
The memory storage is exceptional – 1GB – thereby making it more attractive for developers. It can also be used on different operating systems like Linux, VISTA, and Windows 7/8/10/XP. The software will decode the recorded data and confirm and display the protocols on the main display.
The LA2016 has an incredible storage capacity of 1GB
The device can be adjusted to measure a pulse width of 5ns
The PWM (Pulse width modulation) frequency range measures between 0.1 and 20 MHz
There is no support for Mac OS
Since the analyzer is made of plastic, it can get damaged easily
---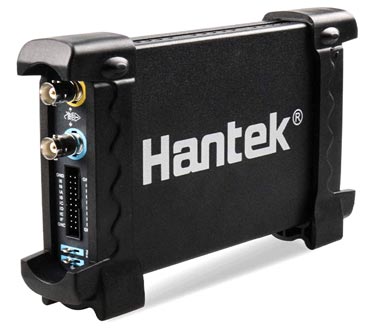 BEST USB ANALYZER
Hantek 6022BL USB Digital Oscilloscope + 16 CHs Logic Analyzer
Standard USBXITM interface, easily inserts into USBXITM housing
16Channels Logic Analyzer, 20MHz Bandwidth
23 measurement function, PASS/FAIL Check
Best for automotive diagnostics
Hantek is a company that is known to manufacture the best oscilloscopes in the market; all these devices perform exceptionally well and will provide you with the best results. However, this also makes choosing one harder. Hence, you will be glad to know that the Hantek 6022BL is considered a safe and budget-friendly choice.
Best features
The Hantek 6022BL is an effortless oscilloscope and logic analyzer that can be operated with ease, thereby making it a perfect choice for beginners. Its small and compact size will allow you to carry it wherever you go, thereby setting it apart from other competitive brands.
This oscilloscope/logic analyzer does not require an external power source for operation. All you need to do is connect the appliance to your computer or laptop and it will start working on its own. Such ease of use makes it a great choice for working in external environments.
On the technical side, the 6022BLhas a high refresh rate, which provides the most accurate results. The appliance is packed with an anodized aluminum case that protects it from rough handling and bad weather conditions.
While there are no updates for Windows 10, the analyzer should work on the older versions of Windows.
The high refresh rate provides the best accuracy
You do not need an external power source to operate the appliance
The sampling rate is quite high – 48 Ms/s
The device is portable and easy to carry around
The inputs do not provide AC coupling
There is no update for systems running on Windows 10
---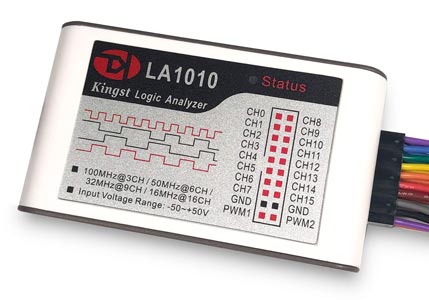 BEST CHEAP ANALYZER
LA1010 USB Logic Analyzer
Input channels number: 16
Sampling rate: 100M@3CH, 50M@6CH, 320M@9CH, 16M@16CH
USB2.0 Interface, Max Sampling Depth: 10G
Max Input Voltage: -50V ~ +50V, Adjustable Threshold Voltage: -4V ~ +4V
If you are looking for an oscilloscope and logic analyzer that has the best and most practical design, then the LA1010 analyzer is the best choice. It can easily record many digital signals simultaneously and decodes protocols just as easily.
Best features
This logic analyzer can record and decode digital signals with a high success rate of 95%. It has 16 input channels, with a maximum sampling rate of 100 Ms/s; this means that the device can easily sample 16 channels at the same time. The accuracy of the device is so precise that it can capture a minimum pulse width of 20ms.
The signals could be analyzed along with different standard protocols, to get more communication data. Thanks to all these features, the LA1010 analyzer is used in a lot of testing different types of digital systems like FPGA, ARM, MCU, etc.
Apart from these, it can also be used for monitoring and recording digital signals over some time, developing and/or debugging different types of communication programs and tools, etc.
Apart from its practical design and ease of use, this logic analyzer is also packed with several high-quality accessories. All you need to do is attach the USB cable to your computer and you will be able to work at high speeds. However, the device may be a bit on the expensive side.
While the analyzer may be small, it is packed with a lot of power
The accessories are made of top-grade materials and will stand the test of time
The device is compatible and can be used in rough weather conditions
The software is compatible with almost all operating systems
The device is costly
This logic analyzer has no on-board memory, so the data transfer rate is quite slow
---
EASY TO USE
Saleae 8-Channel Logic Analyzer
8 Digital/Analog inputs (multi-use), Decode SPI, I2C, and 23+ more
Digital sample rate up to 100 MS/s, Analog sample rate up to 10 MS/s
10 Billion+ samples of digital, 500 Million+ samples of analog (uses PC memory, USB 2.0)
Next Gen Logic 2 software available @ Saleae website – Mac, Windows, & Linux
When Saleae first came out with its logic analyzer in 2008, it was praised all over for its low cost and ease of use. This is a nice and well-polished logic analyzer and oscilloscope that you can use to examine waveforms of a running circuit.
Best features
On the technical side, it is an 8-channel logic analyzer that has a maximum sampling rate of 500 Ms/s. All sample data from the device can be transferred to your computer or laptop at a very fast rate of 25 MHz. This analyzer is considered the most unique among its competition and offers dual analog/digital capabilities. The channels can also be used as an analog input, digital input, or both.
Unlike most other analyzers in the market that feature a lot more additions like trigger inputs and external clock, the Saleae analyzer does not include these options. However, the lack of some components is only made up of the addition of different features.
For instance,
the sample streaming
of the analyzer is considered the best in the market. This means that the sample data is streamed over USB in real-time when connected to a laptop or computer. This way, you will be able to analyze millions of samples in a single go. Additionally, the small size allows you to carry around in cramped spaces as well.
The client software of the analyzer is extensible
The capture size of the appliance is huge
The setup is extremely easy
The hardware is durable and ups the quality
There is no continuous triggering
The analog input bandwidth is quite low
The search and trigger options are very limited
---
BEST PORTABILITY
Diligent Analog Discovery Systems Kit: USB Oscilloscope & Logic Analyzer
Two Analog Inputs (±25V, differential, 14-bit, 100MS/s, 30MHz+ bandwidth)
Two Analog outputs (±5V, 14-bit, 100MS/s, 12MHz+ bandwidth)
Stereo audio amplifier with replicated AWG signals
16 Digital I/O (3.3V CMOS and 1.8V or 5V tolerant, 100MS/s)
Diligent's Analog Discover Systems Kit is a USB-scope logic analyzer that also functions as a waveform generator, a network analyzer, a pattern generator, and a DC power supply. This analyzer is built on the FPGA, which will help you solve a wide range of problems related to instrumentation devices.
Best features
Before we get down into its technicality, it only seems fair that you know the device is not cheap. However, it is definitely worth the money. This scope can scan through 100 Ms/s and utilizes a 14-bit A/D. The inputs are differential and the waveform generator can easily go up to 12 MHz.
The software is cross-platform and is fitted with a lot of features that you can explore. While the online support is not so great, you should be able to figure out the overall working very easily. The device is portable and compact and everything is packed at a single price. The largest buffer you can field is 16K per channel.
On the technical aspect, it is a two-channel scope that also functions as an arbitrary function generator. There are two input and output digital trigger singles that can be used for linking on multiple instruments. In the packaging, you will also find high-quality power supplies, an impedance analyzer, and a data logger.
This is a compact analyzer that you can carry around with ease
While it is small, the Analog Discovery analyzer is quite durable
Apart from a logic analyzer, this device is also used as a DC power supply and waveform generator
The analyzer is quite versatile
The analyzer is very expensive
The online support system of the company is very bad
---
What are the differences between a digital oscilloscope and a logic analyzer?
Yes, it is easy to get confused between a digital oscilloscope and a logic analyzer. However, there are also some important differences. If you want to understand how these two appliances work and their purposes, you can look into this comprehensive and detailed analysis.
Let us start with a
digital oscilloscope
. These are devices that are used for general-purpose signal viewing. The high bandwidth and the sample rate will allow you to capture several data points over a while, thereby allowing you to measure small-time increments, transient events, and signal transitions (edges).
While a logic analyzer can be used to look into the same digital signals as an oscilloscope, the latter is mostly used for measuring analog signals like the elapsed time between edges, peak amplitudes, and rise and fall times.
Digital oscilloscopes are mostly fitted with four input channels. However, what do you do if you want to measure more than four digital signals at the same time or a digital system with a 32- and a 64-bit address bus? In this case, you need something that is fitted with that many inputs.
Thankfully, logic analyzers have anywhere between 34 and 136 channels, with each channel designated for a single digital signal. Also, some complex devices are fitted with thousands of input channels. For some other tasks, you will also find appropriately-scaled logic analyzers.
Unlike a digital oscilloscope,
logic analyzers
are not used to measure analog details. Instead of this, this device is used to detect logic threshold levels. When the input is more than the voltage of the threshold, the level is said as '1' or 'high', while the lower input is said to be '0' or 'low'. When the logic analyzer samples the input, the value will be stored as '0' or '1', depending on the level of the signal of the voltage threshold.
The waveform timing display of a logic analyzer is almost similar to the timing diagram produced by a simulator or found in a datasheet. Because there is a correlation between all the signals, you can view the missing/extraneous data, pulse width, and setup-and-hold time. Apart from these, logic analyzers also provide other important features like debugging and digital design verification; others include:
Translating captured data into processor instructions and correlated to the source code via the analysis capabilities
High-density adapters and probes that simplify the connection to the SUTs (system under test)
Specify the conditions about how the logic analyzer acquires data via the sophisticated triggering
---
Best Logic Analyzer – Buying Guide
As mentioned above, there are many different types of logic analyzers in the market today. However, how do you know which one is best for you? You need to ask yourself about several different technical specifications. Some of these questions include – what is your reason for purchasing a logic analyzer, what are the specifications, etc.
Type of logic analyzer
You need to ask – what is the type of logic analyzer you are looking for? As said above, these appliances are available in three different types – modular, PC-based, and portable. Each one of these types has its own sets of advantages and disadvantages; always consider them before you buy one.
Modular logic analyzers are rack-mounted devices and need a separate computer with specific software for collecting and analyzing the data.
PC-based logic analyzers are almost similar to modular analyzers, except that they require a host computer to capture the visualization of the waveforms.
Portable logic analyzers are large appliances that look similar to oscilloscopes. They are fitted with a display screen and several knobs and buttons. In most cases, you do not need a separate computing system.
Channels, sample rates, and bandwidth
This is a technical specification that you need to consider very carefully. The number of channels on the logic analyzer is the most important and basic requirement in the device. The channel is defined as the line for receiving the digital signal. For most of the analyzers, the number of channels can vary from 8, 16, or 32; it may also increase for some high-end models.
The more input channels you have, the more you will be able to debug parallel communication busses. While the channels are important, you also need to consider the sample rate of the appliance. A sample rate is defined as the shortest amount of time that your analyzer can measure different readings from the captured signals.
For instance, your logic analyzer has a sample rate of 50 Ms/s. This implies that your appliance can sample a signal 50,000,000 times each second. To be on the safe side, you need to look for a device that has a sample rate that is four times faster than the frequency.
Lastly, you also need to take a closer look at the bandwidth of the logic analyzer, which will show you the maximum level of frequency that your appliance can handle.
Input impedance
Most of these analyzers are fitted with a pull-down resistor on separate channels that are used to connect the signal for the input to the ground. This will provide you with some safety so that the probe does not float around when it gets disconnected from the circuit.
In most cases, the resistor can measure anywhere between 100 kΩ and 100MΩ. Hence, you need to ensure that the circuit can deliver enough current through the pull-down resistor. There are several advanced chips like FPGAs and microprocessors that cannot drive more than a few μA or mA. A pull-down, something like a 100 kΩ will cause the voltage to drop and will provide inaccurate readings for the signals.
Probes provide some level of capacitance, whether they are through the nature of the wire and connector or passive circuitry. The capacitor will provide less impedance at higher frequencies, which can prove to be a problem for a lot of digital circuits.
For instance, a 10pF capacitor will have an impedance level of 150 Ω at 100 MHz. Hence, it is recommended that you look for probes that have the minimum capacitance.
Other factors you need to consider
Apart from the above-mentioned obvious factors, there are also some other considerations that you need to remember. Some of them include support, ease of use, output capabilities, differential signals, over-voltage protection, protocol, and triggering.
From the above, it may seem that looking for the best logic analyzer may seem very daunting. However, with the help of these technicalities, you will be able to make some important choices.
When you are looking for the best logic analyzers, you will come across a wide range of brands, of course.
But, you should remain cool and compare the prices, specifications, and certifications of the logic analyzers. With the help of the above buying guide, you will end up with the most cost-effective and the best logic analyzer.
---
Best Logic Analyzer – Conclusion
Overall, logic analyzers are slowly becoming an indispensable part of digital troubleshooting on all levels. As digital devices are becoming more complex and faster, logic analyzers are becoming extremely popular. They are fitted with features that are capable of capturing the fastest anomalies in a design. You can view all the channels in the highest resolutions and analyze thousands of signals over many cycles.
Triggering is considered the most important use of logic analyzers and can be used to discover an unexpected error or a suspected problem. Triggering will also provide you with a lot of different tools that you can use to locate intermittent events or test out a hypothesis about failures. The range of triggering options you see on logic analyzers will only a testimony to the appliance's versatility. Additionally, the high-resolution display and sampling architecture will show fine details about the signal behaviors.
In high-speed timing and state data, the single-probe acquisition will help you collect volumes of data about different devices and analyze the relationship between the higher-level state activity and timing diagram. Some other characteristics like modularity join forces, integration with analog tools, analysis, and display features, and acquisition memory make logic analyzers the most perfect tool to find digital problems quickly and allow you to meet aggressive design schedules.
Did you like our Best Logic Analyzer review? Please let us know and don't forget to check our other reviews.
Best Digital Oscilloscope – could be interesting for you!