by Matthew Mills
|
Last Updated:
May 16, 2022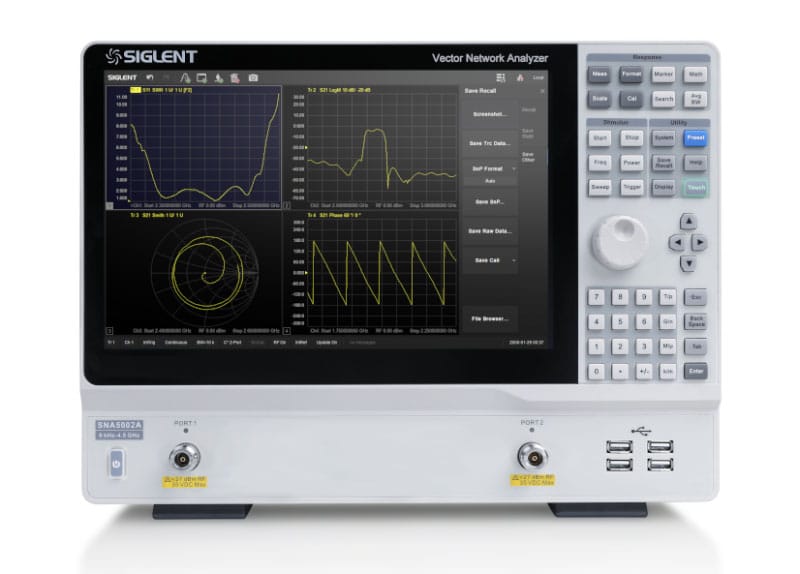 NEW
SIGLENT SNA5000A Vector Network Analyzer
Frequency Range from 9 kHz up to 4.5 GHz / 8.5 GHz
Setting Range of Output Level: -55 ~ +10 dBm
Dynamic Range: 125 dB
2/4-ports: S-parameters, Balance Measurements, Time Domain
Measure: Q-factor, bandwidth and Insertion Loss
Power source calibration compatible with R&S NRPxxA/AN and Keysight U2000A/B series USB power meters
Compatible with several manufacturers ECal kits (contact us for more information)
With the continuous growth of radio and cellular networks, increased data traffic and higher data rates, the need for high-performance measurement technology is growing. Vector Network Analyzers are a key measurement instrument in the field of high-frequency technology.
Measuring passive or active components, verifying dual port networks or adapting antennas are just a few examples of where VNAs are needed. The SNA5000A's intuitive operating concept makes your work easier and faster, and its large screen enables you to clearly display results. Powerful hardware ensures accurate and reliable results.
SIGLENT Technologies introduces its first 2- or 4-port vector network analyzer. This new product is an important and significant step for Siglent as the SNA expands the Siglent product portfolio and is the first product family to be introduced in the new 'A-Line'.
This is expressed by the new 'A' suffix at the end of each model number. Compared to the existing and very successful X-Series devices, which focus on value for money, the A-Line focuses on quality, reliability and efficiency.
---
SNA5000A Vector Network Analyzer Release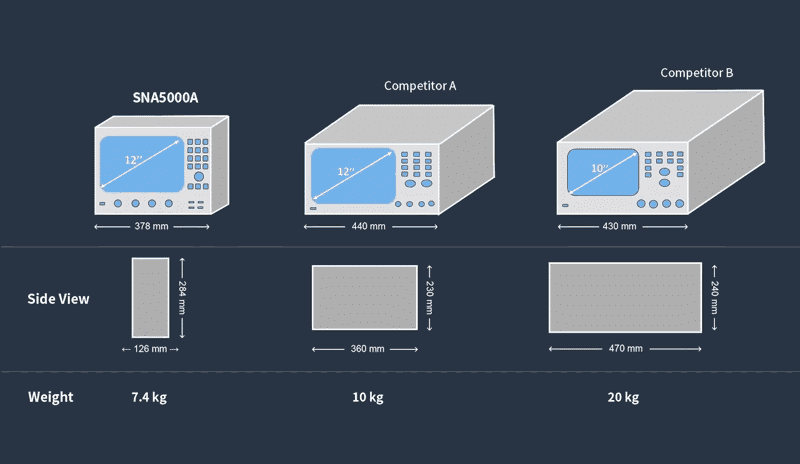 Take it to the next level with the SIGLENT SNA5000A vector network analyzer. It is half the size of today's VNA models, but has one of the largest touch screens for ease of use. The design of the SIGLENT SNA5000A VNA focuses on compactness, yet is user-friendly. It features a large 12.1-inch touch screen and a user interface that takes up a small footprint.
The SNA currently covers a range of 9 kHz ~ 8.5 GHz, has a solid 125dB dynamic range, and comes in two- and four-port models. The SIGLENT SNA5000A vector network analyzer provides reliable and accurate measurements in both frequency and time domain.
Standard HDMI and LAN interfaces make it easy to connect the display and control, and Bias inputs are also included for easy DC biasing of external devices for higher stability. The High Stability Timing Source option can be ordered later and easily installed on-site.
The SIGLENT SNA5000A vector network analyzer provides a wide range of high-frequency measurements, including s-parameters, balance tests, time domain analysis, TDR and eye diagrams and more. For complex measurements an easy to operate user interface is critical.

Designed with a large 12.1-inch touchscreen
Basic functions can be quickly accessed with hard-key buttons, and thanks to the 12.1″ touchscreen there is no need to scroll down to find hidden menus. Shortcuts and full menus can easily be viewed on the large screen. Simply drag and drop the trace icon to create a new window or add a trace to an existing window.
If you want to delete an activated trace, just click on the trash bin icon, you can also cancel and repeat up to 10 steps. To add a marker, just click on the marker icon and enter the interest frequency.
If you need to test multiple devices at the same time, you can also easily add a new channel. To improve the dynamic range IFBW can be easily changed on the screen. For production environments measurement states and calibration data are extremely important. Shortcuts provide quick save and recall functions, you can also preview the screen to save.
A mouse and USB keyboard are also supported for easy operation. Filter and duplexer measurements can be easily performed on the SNA5000A when entering frequency range sweep points and IFBW.
Segmented sweep is also available to reduce sweep time. Calibration kit options include a range of siglent keysight and rhodium schwartz kits, as well as user-defined options.
Add a new window and two traces to measure s21 and s31. Change the format of s11 to a Smith chart and add another trace to measure the phase.
The window height can also be easily adjusted for a better overview. With the bandwidth search function, filter bandwidth and q-factor can be quickly measured.
With DC Bias tees installed as standard, amplifier measurements are simplified. There is no need to design additional Bias circuits, which saves time and RD resources.
Return loss and gain can be easily measured with a marker, and the 1dB compression point can be measured in power sweep mode.
Software options
The SNA5000A has a number of software options with more than 120 hours of trial time, so you can try them without risk. The time domain analysis option is useful for measuring impedance values along a microstrip and clearly marks gaps in time or distance. It also supports time gaining to remove the effects of unwanted discontinuities.
The time domain reflectometry or TDR option is an enhanced time domain analysis function, with a detailed setup wizard to help you get started very quickly.
The TDR option contains TDR TDT functions, which is time domain reflection and time domain transmission, as well as an eye and mask diagram. The TDR TDT function adds T-parameter measurements, which reflect the step impulse response of the device under test and with the advanced waveform settings it's more useful than the TDA option.
Eye and mask functions are important for signal integrity analysis, and without the need for an external signal generator, you can simply set up a virtual pattern generator to produce different kinds of digital signals and add jitter to produce statistical eye diagrams. Various kinds of masks are also available.
An advanced user interface and versatile features are not the only reasons to choose the SNA5000A. Its robust RF performance, ease of use, and convenient size make it a great solution for everyday RF testing.
---
X-line models that you can buy now
---