by Matthew Mills
|
Last Updated:
May 3, 2021
You may have come across the term 'Solder' in discussions on electronics repairing and maintenance. To put it simply, Soldering means connecting or joining electronic parts together. The main element that gets functional in this process is called Solder that is mostly a metallic alloy material.
Solders are only called wire but they are extremely thin metal tubes with a core. These are melted to fit into the parts and establish electrical and thermal conductive joints. Solders can be used for repairing a wide range of electronic devices, including circuit boards, TVs, motors, radio, etc.
BEST OVERALL
KESTER 24-6040-0027 Wire Solder
Wire Alloy: 60/40 (60% Tin, 40% Lead)
Wire Solder Diameter: 0.031″ (1.57 Mm)
Core Size: 66
This is our top pick for solders as this product has got some of the most advanced specs than the rest. The Kester Wire Solder has been designed for the most effective wetting activities. It delivers great performance, irrespective of the surface type that makes it extremely versatile.
Best features
The best thing about this wired solder is that it can be used on any surface, including Nickel. The solder comprises a Ra Core Flux that is meant for high-end performance. The solder wire gives immediate wetting results.
The material base of this solder includes Ra. Even then, the wire residues remain non-corrosive in any situation. The wire is a Rom1 Flux with an alloy composition of 60% tin and 40% lead.
This solder is wired and the diameter of the wire is 1.57mm, which is evenly distributed throughout its length. The core size of this solder is 66. This wire comes wrapped around a spool that makes it easy to use and store. The product follows the J-Std-004 standards.
Fast wetting results
Non-corrosive, even in dampness
High performance built
Wire diameter options available
Easily maneuverable
Inaccurate product description
High residue
---
BEST FLUX PASTE
No Clean Lead-Free Low-Temperature Solder Paste
Low Melting Point Solder Paste
T4 new industry standard
Contains Silver for less brittle joint
137C 278F Melting Point (Eutectic)
This product facilitates the most crucial part of soldering, that is, joining. This paste has been advertised as requiring no after-application cleaning. This means that it can be easily used for both minor and major soldering purposes.
Best features
The prime thing to note about this paste is that it is lead-free. Lead can cause much harm to users upon exposure, especially when they are handling soldering with bare hands. Moreover, the metal base of this paste helps in the effective attaching of two surfaces.
It is very easy to heat and apply this paste. This is because of its low melting point that also requires you to check what all surfaces it is suitable for before application. It has a Eutectic melting point of 278°F or 137°C.
Some amount of silver also exists in this paste to make it suitable as filler for less brittle junctures. The paste is manufactured as per the new T4 industry standards that ensure it's safe to use under the right conditions. You also get two dispenser tips for 16g and 20g paste outlets.
Lower melting point
Easy to use with dispenser tips
Silver component for joining lightly brittle points
You just have to heat and apply it
The dispenser tips are not very effective
Solidification problems
---
BEST SOLDERING KIT
Anbes Soldering Iron Kit Electronics
14-In-1 Soldering Kit
Heat and impact resistant design
Temperature from 200℃-450℃
Soldering Iron Support Station
Solder Sucker Desoldering Pump
The best product you can buy for getting started with soldering is this iron kit by Anbes. It's a complete tool kit of 14 different products that are a must-have. All the tools are built by carefully following the best safety standards to ensure no harm to users.
Best features
The kit contains the following tools – soldering iron, tips, tin wire tube, iron stand, desoldering pump, 24awg wire, wire stripper cutter, and tweezers. All of these items are gathered in a quality PU carry bag that facilitates easy handling and portability.
The soldering ironworks at 110V and 60W and can heat up to temperatures 200-450 degrees Celsius. You can fit it with the five tips for different adjustments. The iron holder comes with a sponge holder for safer handling of the iron. The desoldering pump is made of rugged metal to facilitate easy removal of solder from any surface.
The iron support system is especially focused upon when it comes to
user safety
. Measures like heat-insulation and the use of anti-scalding silicone ensure burn protection.
All-in-one kit for facilitating full soldering operation
Safety-centric tools
Comes with a PU bag for easy carrying and maintenance of the tools
Perfect for all DIY and repair tasks
Individual tools might not meet your expectations
Cheaply built products
---
BEST FOR REPAIR
SRA Soldering Products Rosin Paste Flux
The ideal flux for electrical and electronic repairs
Formulated for use with tin/lead and lead-free alloys
Does not need to be cleaned
Active temperature range: 93 – 315°c/ 200 – 600°
This flux paste by SRA claims to give the best bonding joint to electronic pieces. The paste has a petroleum compound as its base with other elements to solidify the flux. It is the perfect paste for repair and building purposes.
Best features
This paste is a mixture of activators like Organic acid and Rosin over a base of Petroleum compounds. There are no traces of elements like Ammonium Chloride or Zinc Chloride that can cause current fluctuations. The presence of Rosin makes the paste anti-corrosive as it makes a protective layer covering the soldered spot.
The temperature activation range of this paste is between 93 and 315 degrees Celsius. This makes it ideal for usage with alloys of tin/lead or lead-free alloys. The paste comes in a circular jar that allows easy and mess-free application. You won't have to clean the paste since it easily flows into the spot and not out.
Flux paste guides the solder through its flow
Has a low melting point for faster application
Facilitates strong joining
Corrosion preventive layer on the joints
---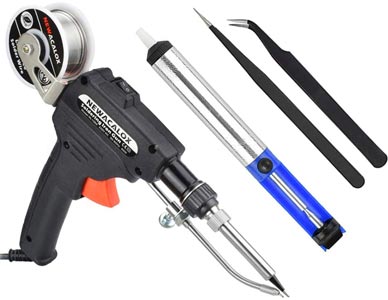 BUDGET-FRIENDLY
NEWACALOX Soldering Gun
5-IN-1 Soldering Guns Kit
One-hand Operation
Discharge with the Vacuum Pump
Hands-free solder feeding
The product name only talks about a soldering gun but it is a complete tool kit for soldering. This NEWACALOX soldering kit comprises an automatic soldering gun with a desoldering pump, soldering wire, and tweezers. The product has been designed keeping in mind the safety of users, effective functionality, and complete reliability.
Best features
The soldering gun of this kit is a fully automatic machine that allows single-hand operability. The iron heats up quickly enough with temperatures ranging between 200 and 450 degrees Celsius. There is a small stand structure attached to the gun for safe handling as you can rest the gun with its help without the risk of tipping it over.
The gun is made of mica material that ensures high durability and easy maintenance. Next is the desoldering pump that also comes with single-hand operability and is suitable for tough performances. The other tools like soldering wire and tweezers help in effective soldering where you won't have to waste your time arranging things.
The best part of this product is the 30-day return policy, along with reliable customer assistance.
Complete soldering kit with all necessary tools
Highly durable and efficient soldering gun
Single-hand operable tools
Return policy available
Safety standards compromised while manufacturing
Solder iron gets stuck
---
BEST FOR SAFE USE
TAMINGTON Lead Free Solder Wire Sn99.3 Cu0.7
Lead-free solder wire
Flows well and heats evenly, easy to use
Designed for electrical repairs: TVs, VCRs, stereos, wires, motors, circuit board and other
Another great soldering wire on the list, this product by Tamington is a 100% lead-free wire that facilitates fully safe soldering for all. It is a rosin-core wire with a flux rate of 2.2% and an alloy composition of tin and copper. This wire carries quality soldering ability for both thermal and electrical conduction.
Best features
The wire has a diameter of 0.6mm, which makes it thick enough for effective joint soldering. It has a low melting point of 441 degrees F or 227 degrees C for faster bonding action. The tin-copper alloy material composition of the wire allows it to heat up easily. The wire is also very easy to use as it flows very well due to even heating.
The lead-free composition of this wire allows safe handling for users. The common threat of lead poising occurs when the wire is handled bare-handed. For safety, wear gloves, preferably while soldering.
You can use this solder wire for repairing numerous electronic devices, including TVs, radios, wires, circuit boards, motors, etc. The customer assistance provided by the brand is very helpful.
Lead-free wire for safe soldering
Rosin core prevents corrosion
Quality wire with even heating and good flow capability
Wide applicability
Misleading product description
Stinking odor
---
MOST VERSATILE
MAIYUM 63-37 Tin Lead Rosin Core Solder Wire
Solder wire Tin 63%- Lead 37% (Sn63-Pb37)
Flux content 1.8%
Low Melting Point: 361F/183C
One of the most versatile soldering wires available on the market includes this one by MAIYUM. This soldering wire is made out of an alloy of tin and lead that facilitates quick smoldering for a vast range of electronic devices. The wire comes wrapped around a spool, which makes it portable and easily usable.
Best features
This wire is made up of an alloy composition with 63% tin and 37% lead and the Rosin compound as the core material. These specs impart a high quality to the wire, along with a 1.8% flux rate that speaks for itself. It is a 0.8mm thick wire that heats quickly with a low melting point of 183 degrees Celsius or 361 degrees F.
The wire solders fast enough as it flows through the joints smoothly to wield them together. It is very easy to maneuver the wire around joints. Another impressive thing about the wire is that it doesn't corrode easily and the same is the case with its residuals.
Wide applicability for numerous electronics
The low melting point allows fast soldering
Non-corrosive rosin core
Clumping issues
Doesn't penetrate smoothly
---
Best Solder for Electronics – Buying Guide
The most common mistake done by people while picking the right solder is ignoring its essential technical features. It becomes important to understand the purpose you are going to buy the solder for. Only after that, you will be able to make an informed decision about purchasing the right solder.
We are going to help you with this by stating some of the essential factors that one must keep in mind while purchasing a solder. Here is a list of them:
1. Core compound
This is a very crucial factor that affects the purpose of solders and also helps in differentiating between them. The right solder for electronics must have a flux core of the Rosin compound. This compound becomes helpful due to its non-corrosive nature. It also makes a protective layer on the joints, saving them from burnout.
2. Diameter
This factor is important as it affects the purpose suitability of the solders. The usual diameter range available for solders is 0.02-0.062 inches. Mostly, thick diametric solders are used for large electronic devices.
3. Composition
The solder wires with alloy compositions are the most preferable ones. This is important as it affects their eutectic capabilities or the ability to convert into a liquid from a solid. The alloy of tin and lead is the most common option, along with tin and copper alloy solders.
4. Presence of lead
While lead is majorly found in alloy solders, many solders are manufactured lead-free too. The absence ensures safety against lead-poisoning that comes with careless handling of the solders. Thus, lead-free solders are better options for beginners as well as environmental issues.
5. Melting point
Check the melting point of the solder before purchasing it. This can be important as a lower melting point ensures faster melting, which allows the faster application. It also facilitates the even flow of the solders for the creation of stronger and reliable joints.
6. Flux rate
This is another important factor that affects the conductivity of the solders. The flux rates of 1-3% are mostly available in the wires.
---
Best Solder for Electronics – Conclusion
Solders are, thus, very important products that facilitate effective repairing of electronic devices. An effective solder can present you with properly conductive joints, along with ensuring your safety.
Remember to practice precautionary and safety measures from your side as well. Regarding the best solder for electronics, you can trust to choose any of the products listed above and it will serve your purpose just right.
Did you like our Best Solder for Electronics review? Please let us know and don't forget to check our other posts.
Best Digital Oscilloscope – could be interesting for you!