by Matthew Mills
|
Last Updated:
May 4, 2021
If you want to analyze electrical circuits efficiently, a portable oscilloscope is an ideal instrument. Such a device should have a bright display that you can easily see the readings, a sizeable memory, and an easy-to-use interface. They are very convenient because you can easily carry them and take them out to the point where the measurements need to be taken.
These devices are protected against impact and are sealed properly to prevent the entry of dust. Unlike a regular oscilloscope, there aren't too many wires to deal with here, so you can easily charge and operate it.
Whether you are a professional electrician or someone who needs to perform electrical jobs at their home, you would only want the best quality product when it comes to portable oscilloscopes. They will help you find out what's wrong with your electrical device quickly and efficiently.
BEST OVERALL
Siglent SHS806 Handheld Oscilloscope
60MHz handheld, two-channel digital oscilloscope with multimeter mode for measuring voltage, frequency, duty cycle, and power
Real-time sample rate of 1GS/s and record length of 2Mpts for acquiring up to 18 hours of detailed waveforms
Advanced triggers for isolation of specific signals
Trusted by electricians all over the world, the Siglent SHS806 is one of the best portable oscilloscopes you can find in the market. It provides reliable performance for several years and has some of the best features. With its 2Mpts record length and 1GS/s sampling rate, it will show you detailed and precise waveforms.
It has two channels and a bandwidth of 60MHz. Furthermore, The 320 x 234 screen resolution allows you to check the readings easily.
Best features
While the product does not come cheap, the Siglent SHS806 shows detailed cursor measurements. In the device display, you can check the relative and absolute Voltage and Voltage, and also change the settings to measure parameters like time periods and RMS voltages.
This device gives you a high-quality signal due to the presence of several digital filters. You can also isolate any signal you want using the highly advanced triggers present in it. It is completely safe to use and has passed all the international safety standards.
With this oscilloscope, about 18 waveform hours can be captured, due to its high-quality recorder. Moreover, the USB port lets you store important data on a pen drive. It also has a trend plot analyzer that allows for long-term trend analysis.
Integrated Multimeter offering various test functions
Data Logging function for long term measurement
The USB port allows for easy storage
Four types of Fourier Transformation available
Zoom functions may contain bugs
Factory resetting the device is a bit problematic
---
BEST LOOKING
SainSmart DSO212 Pocket Size Portable Handheld Mini Digital Storage Oscilloscope
Max Sample Rate of 10 MSa/s and two digital channels
Built-in 8 MB storage space, 2.8″ 320*240 bright color TFT display
Built-in 3.7V 500mAh lithium battery
While it cannot replace a big, wired oscilloscope, the SainSmart DSO212 provides great performance for a product in its price range. It has an analog bandwidth of 1MHz and a memory depth of 8K. This means that you can use this device to produce waveforms having a maximum frequency of 1 MHz.
One of the notable things about this device is that it doesn't have a touch screen. Instead, you have to use a rotary system to navigate the interface.
Best features
The most outstanding feature of the DSO212 is the STM32 processor which lets you decode digital data quite efficiently. Even if you do not know much about this processor, you can still work with it easily and even introduce your outputs. For every test, the signal generation and sensing settings are provided, so you don't have to take the help of an expert to operate this device.
Operating this device is as easy as working with a smartphone. You can save images and other data related to waveform in this device since it has an in-built storage of 8MB. The display is quite bright and is able to display all the different types of waveforms.
Whether you need an oscilloscope for engineering, maintenance, or academic jobs, you can do it all with this device since it is so versatile. It has a compact body so you can easily carry it around with you wherever you go. What's more, it has a
500 mAh lithium battery
that gives a long run time.
Produces different types of waveforms like a triangle, sawtooth, square, sine, etc.
Simple navigation system consisting of a rotary and small buttons
Durable device that lasts for long
Contains safety instructions
Sensitivity is on the lower side
Does not have a touch screen
---
BEST FUNCTIONALITIES
YEAPOOK Handheld Digital Tablet Oscilloscope
2 channels, 100 MHz analog bandwidth @ 1 GSa/s Real-time sampling, 240kbit Sample memory depth.
7″ color TFT- LCD touch screen with 800 * 480 resolution
Auto/Normal/Single 3 Trigger modes,it is easy to capture instantaneous waveform
Priced under $200, the YEAPOOK ADS1013D provides you great value for money. It has an analog bandwidth of 100 MHz and a bright LCD display with a 7 inches screen size. It is an ultra-compact device and quite portable so you can take it with you wherever you go.
This device lets you capture waveforms instantaneously and has three different trigger modes, namely Single, Normal, and Auto.
Best features
Engineers and academics around the world prefer this portable oscilloscope mainly because of its large storage space. It has a
storage space of 1 GB
, so you can store more than 1000 waveform data sets inside it. It is very easy to figure out the operation for storage due to the simple interface.
The sampling rate for this oscilloscope is a maximum of 1 GSa/s and it has a single button that you can press to change the mode to automatic. The file manager is a handy feature as it allows you to browse in the thumbnail mode, view minute details, and delete data easily.
The device material is completely safe and free from toxins. The covering is made of silicone so the device does not suffer damage easily if it slips and falls. The touch interface is easy on the hands and is quite soft. Another great thing about this oscilloscope is the long battery life, which lets you use it for 4 hours straight.
Easy to save waveforms in files and manage them
Cost-effective design
Extremely compact and easy to carry
HD screen with high resolution
Doesn't have clear instructions
Navigation can be a bit confusing
---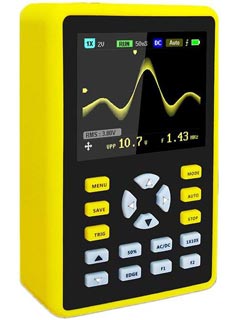 BEST PRICE
YEAPOOK ADS5012h Handheld Digital Portable Oscilloscope
100 MHz analog bandwidth,Real-time sampling rate up to 500MSa/s and the price is moderate
The built-in 64 MB flash storage for up to 2000 waveform images
Auto/Normal/Single 3 Trigger modes,it is easy to capture instantaneous waveform
This is one of the lowest-priced handheld oscilloscopes you can find in the market. It has great sensitivity and can set auto-adjustment for amplitude and sweep speed which makes it convenient to use. Unlike other devices, you won't find any inconsistency while trying to trigger the device on different waveforms.
Best features
The YEAPOOK ADS5012h has a maximum input voltage of 80 V with a single probe and 800 V with 10 probes. It supports AC and DC coupling and supports both rising edge and falling edge trigger types.
Furthermore, this device is fitted with a 3000mAh rechargeable battery that lets you use it at a stretch for 8 hours or so. It is a single channel oscilloscope where you can store as many as 2000 waves.
Another handy feature is
the 64MB storage
that lets you store the waveforms on a computer via a flash drive to analyze them further. You get a USB cable along with the product so you don't need to buy one separately.
The anti-voltage protection on this oscilloscope makes sure that the device won't get burned, which is a real blessing. It has an LCD screen that's 2.4 inches long and has a 320 x 240 resolution, which is quite satisfactory for such a compact device. The screen has a great display so you can see it even in low light.
Thanks to the multiple trigger modes, it is easy to conduct diagnostic tests with this portable oscilloscope. Moreover, it's bright yellow jacket is highly visible, so you can easily spot it inside a room full of other things. Navigating through the presets and menus is made easy through a large number of buttons present in it.
USB cable included with the product
500 MSa/s real-time sampling rate
2.4 inches TFT LCD
64MB storage available
Signals get partially cropped while using the preset modes
Power switch and charging connector are at the bottom
---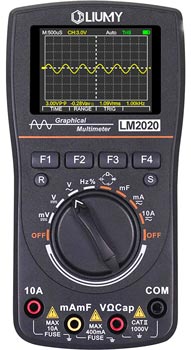 BEST EFFICIENCY
LIUMY Professional LED Handheld Oscilloscope
2.5Mpsp high-speed A/D data collecting, high sampling rate and high bandwidth
Features include DC/AC voltage /current, resistance, capacitance, frequency, diode / continuity test
Dedicated Chip, the automatic waveform capture function, easy operation
The LIUMY LM2020 has an attractive design and it is perfect for fieldwork because of its sturdiness. This highly mobile device is quite accurate and has an advanced in-built chip for which you can generate a 10KHz waveform signal using this oscilloscope. You can get highly effective measurement data using this device, without spending a fortune on it.
Best features
The LIUMY LM2020 offers you much a faster performance in terms of sampling speed. With its 2.5 Mpsp speed, it can collect analog and digital data much faster than other devices. It has a high bandwidth and can perform three different scanning modes: single, conventional, and automatic.
Thanks to its different modes of scanning and one-key transform feature, you will be able to perform your work quickly and efficiently using the LIUMY LM2020. Compared to other oscilloscopes, the detection range of this device is exceedingly powerful. It has been thoroughly tested using transistor amplification so you can expect to give great performance for years to come.
Engineers highly favor this device because of its ability to automatically capture waveforms and the ease of operation that it provides. Moreover, it allows for increased measurement accuracy given its software calibration and memory calibration features.
The screen resolution of this device is 240 x 320, which is decent for such a compact and cheap device. It has an LED backlight which makes the readings quite legible, even during nighttime. Additionally, it has a substantial amount of storage which lets you store close to 100 measurement sets.
You don't have to worry about overload with this handheld oscilloscope since it has a double layer of protection. In case the device senses the danger of overload, it will automatically shut itself down. It is a 100% safe instrument with distortion detection features.
Capacity to store 100 data sets
Single button for switching to silent mode
Long-lasting scope capture function
Fast sampling speed
Resolution is a bit low
Difficult to understand instruction manual
---
BEST UTILITY
Hantek Digital Oscilloscope Kit
40 MHz Digital Oscilloscope with 2 channels
Sample Rate Range 250MSa/s(Single-channel), 125MSa/s(Dual-channel)
250M Sampling rate, 40MHZ Bandwidth. 10MV-10V Vertical resolution
This is a powerful device that is very compact and runs on rechargeable batteries which makes it ideal for working in the field. Furthermore, you can use it in an electronics lab as well since apart from an oscilloscope, it can also be used as a function generator and a multimeter.
Best features
First of all, the Hantek 2D72 comes packed in a durable case which makes for easy storage. The impact-resistance of this device can be attributed to the fact that it has a silicone covering. The buttons on this portable oscilloscope are soft and easy to operate.
The next feature we should talk about is battery life. The lithium batteries that come with this device can easily be replaced and you can run the oscilloscope at a stretch for about 24 hours with just a 2-hour charge. You can connect it to your computer via the USB port and operate it while it is charging.
Coming to the display, the Hantek 2D72 has a TFT display with a screen size of 2.8 inches. This, along with the colored screen lets you easily view all the measurements and the waveforms. If you wish to increase the contrast and see the measurements in low light, you can always adjust the backlight.
One of the complaints many people have regarding this device is the fewer number of buttons which makes it kind of difficult to control a large number of functions. This device also lets you enable both horizontal and vertical cursors to measure the various properties of a waveform.
Moreover, there is the Measure functionality using which you can view the amplitude and the frequency for the channels. On the screen, you will find keys for setting the properties for the channels and time as well as selecting the trigger options.
Extremely durable build
Can be used while it is being charged
Colored wide screen allows for easy visualization of waveforms and readings
Intuitive and simple operation
The stand is a bit hard to adjust
Fewer number of buttons
---
BEST BATTERY LIFE
Fluke 123B Industrial ScopeMeter hand-held Oscilloscope
Hand-held dual channel oscilloscope, and recorder
20 MHz oscilloscope bandwidth. Two 5,000-count true-rms digital
Connect-and-View & IntellaSet Auto reading Technology
Whether you need to troubleshoot electro-mechanical or electrical industrial equipment, the Fluke 123B is a great option for you to consider. This rugged device is several test tools in one, and you can use it as a fast recorder, a multimeter, or an oscilloscope.
You can perform further data analysis on this and archive important information by integrating the device with software and a mobile app.
Best features
One of the reasons why this oscilloscope is so popular is the fact that it has several functions that help you perform your troubleshooting quickly and more efficiently. You can use the Fluke 123B to display all kinds of waveforms and check the related measurements using View and Connect triggers. You don't need to make any adjustments to the measurements for this.
Sometimes while doing measurements, you come across an intermittent event that cannot be detected too easily. But this device has an Event Detect feature, which allows you to capture and log these events so that you can view and analyze them easily. Thanks to the powerful battery, you can use it at a stretch for seven hours after having charged it for four hours.
With the Fluke 123B, you have the option to wirelessly send data to a laptop or a computer, or even a mobile app for easy viewing and analysis. Furthermore, the meter reading recorder lets you analyze trending data for a long period of time.
Another great feature of this device is the IntellaSet technology that performs an automatic adjustment of the readings depending on the signal that is being measured.
Last but not the least, Fluke Connect is a
software system
that contains a large set of tools for your convenience. This lets you take measurements, save them, and share the measurements with your team members from a remote location. You can also provide work-related recommendations and send status reports with different types of measurements.
Wireless operation capabilities
Large cloud storage available
Able to catch elusive signals
Compatible with Windows
Not very cheap
Amp clamp not present
---
Best Portable Oscilloscope – Buying Guide
These days, due to technological advancements, the performance of oscilloscopes has improved quite a lot with respect to the price. Therefore, it is quite affordable to buy a new portable oscilloscope to replace the one you already own. But that being said, there are several brands with their products out in the market and different people have different preferences in terms of brands.
When it comes to choosing a portable oscilloscope, you need to clear about what are the factors you are looking for. You might want an accurate and reliable instrument, something that's uncomplicated and cheap, or one that's sturdy and rugged. So let us look at the different factors you should consider in this regard.
1. Bandwidth
In each oscilloscope there is a filter that limits the bandwidth, removing or attenuating signals having a higher frequency than a certain bandwidth. As a general rule, you should choose a device that has a minimum bandwidth of the highest frequency you need to capture multiplied by 3.
Let's say for example the frequency of the signal you wish to capture is 20MHz. Now you have two oscilloscopes at your disposal, one width with a bandwidth of 20MHz, and the other with a bandwidth of 200MHz. When you measure the signal using the 20MHz oscilloscope, you'll get a distorted shape, while the other one will give you a clearly visible shape.
2. Channels
Portable oscilloscopes generally have one, 2, or 4 input channels. Oscilloscopes with a single channel are cheaper and easier to use. That being said, engineers and technicians mostly prefer oscilloscopes with 2 or 4 channels as you can view more than 2 signals at the same time using these.
Some devices also have a separate triggering channel that gives you an extra input terminal so that you can trigger the device and take measurements as required. Sometimes you need to calculate the phase delays for which you require an oscilloscope with at least two channels. In this case, you can start taking measurements using the triggering input.
3. Memory Depth and Sample Rate
These two factors are related to each other. A device with more memory depth allows you to make more detailed measurements and for a much longer span of time, in comparison to one having lower memory.
The acquisition time of an oscilloscope, i.e. the time taken by the device to acquire a particular signal is defined as the ratio of Memory depth to Sample rate.
For example, an oscilloscope with a memory depth of 10k will lack some of the details that can be found with a device with a greater memory depth of say, 2M. Due to the low memory depth, the acquisition time goes up pretty high and the maximum sampling rate cannot be sustained.
A device with more memory depth will allow you to better detect glitches and key events that could indicate a fault in your electrical system. Thus, this kind of oscilloscopes are more favored by engineers are technicians.
4. Safety Ratings
This is one of the most vital aspects of a handheld oscilloscope and you must consider this factor before choosing a device. When it comes to safety ratings for measuring and testing electrical equipment, there are four different standards and you must choose the right type of oscilloscope depending on where you would be using it.
In case you are working with stationary motors, circuit breakers, and distribution boards having a permanent connection to a fixed socket, then you are working in an electrical environment where the number of energy transients and the power is quite high. For this, you need a rating of at least three to withstand the energy transients.
5. Channel Isolation
If you are working with floating measurements such as the ones found in industrial equipment, motor controllers, etc., you need a device that has the channel isolation feature. Such a device is ideal for taking non-grounded measurements since the exterior layers of the input channels are not directly grounded. Thus, you can the oscilloscope for many types of applications while being protected from short circuits.
If an oscilloscope with an isolated channel cannot be found, you can take the help of a differential probe. If you use a standard probe instead, it may cause the circuit to malfunction. Thus, for signals referencing each other, and for viewing tiny signals accompanied by huge DC offsets, a differential probe is ideal.
6. Screen Resolution
The small size of portable oscilloscopes makes it mandatory that you carefully consider the screen resolution before choosing one. If a device does not have a great display, you won't be able to see the minute details that are essential for fixing issues with your electrical equipment.
While buying portable oscilloscopes, you should look for TFT LCD screens that make sure a resolution is high enough. For handheld devices, a resolution of 320 x 240 pixels is substantial. Additionally, if you need to deal with multiple waves, you should get a device that supports color display.
7. Structure
Your main reason for getting a portable oscilloscope is compactness, so you shouldn't go for heavy devices that are marketed as portable. These oscilloscopes are specially designed so you can carry them around quite easily. You should look for a device having an aluminum interior and a sturdy plastic jacket.
---
Advantages of Portable Oscilloscopes
Traditional oscilloscopes are heavy instruments, and it is not possible to use them in small spaces or carry them around effortlessly. If your daily operations require you to travel to different areas and take measurements, a portable device offers much more in terms of convenience because it does not take up too much space. Since these devices are lightweight, even small children can use them for educational purposes.
Let us look at the different advantages offered by these devices:
1. Utility
The measurement usage for traditional oscilloscopes can be a bit different from portable devices. With handheld oscilloscopes, you require a software program that lets you view and analyze the measurements on a computer.
While this may seem like a different task, computer software allows you to make more accurate measurements. Also, you can save all your data on the computer via a USB flash drive, which is not possible with a traditional oscilloscope.
2. Data Accessibility
While troubleshooting your electrical equipment, it is great if you can save your work somewhere in order to check it again or share it with other people. Sometimes, you might be working at a location far away from others, and therefore the ability to share data comes in handy.
Additionally, your job becomes easier when you can connect the device to a computer for saving your data.
3. Expenditure
Sometimes small and light devices are deceptively expensive, but this is not the case with a handheld oscilloscope. These devices are quite cheap compared to tabletop oscilloscopes so if you need them for your project, you don't have to worry about splurging too much money. They are designed for versatility and both technicians and students will find them useful.
For using this testing device, you need to utilize several functionalities of your computer, most of which are already available. The computer provides processing power, display, and power supply so you don't need to replicate these inside the USB scope.
4. Programmability
Along with a portable oscilloscope, you get different kinds of instruments integrated into the software like Pattern Generator, Logic Analyzer, Impedance Analyzer, etc. Since these devices are largely dependent on software, you can install periodic updates and get access to new instruments and functionalities.
By connecting the instruments to your system, you can fully leverage the PC's processing power. This means you can build custom applications and write a script for advanced testing.
5. Size
One of the most obvious advantages of a portable oscilloscope is the size. Working in the field often involves operating in tricky areas where there is not enough space. In this regard, portable oscilloscopes offer a great solution.
These devices do not weigh too much and you can easily carry them inside your pocket. Storage is also not an issue since these do not occupy too much space.
6. Real-time Analysis
Using a handheld oscilloscope, you can perform a real-time analysis of the waveform. You can view the waveform on the device screen and this is extremely useful for diagnostics and testing purposes since you can measure the signal frequency instantly.
As soon as you connect the device to a power source, you can see the waveform is displayed. Thus, you can not only calculate the voltage but also evaluate the resistance.
7. Identifying Noise
A handheld oscilloscope, like every device, should possess a decent degree of effectiveness. These devices are extremely sensitive to disturbances caused by other circuits. Using the different controls on the device, you can eliminate such interference with a little practice.
---
Best Portable Oscilloscope – Conclusion
A portable oscilloscope is a great alternative to a traditional instrument, and not only because of its portability factor. These versatile devices allow you much more freedom when you are working in the field. If you are interested in getting the best portable oscilloscope, you can choose one from the several models mentioned above.
Did you like our Best Portable Oscilloscope review? Please let us know and don't forget to check our other posts.
Best USB Oscilloscope – could be interesting for you!