by Matthew Mills
|
Last Updated:
April 29, 2021
Automotive oscilloscopes are important tools that let you analyze and troubleshoot electrical equipment like actuators, solenoids, and sensors. Moreover, you can also use them for tracking electrical waves when a gadget of yours is malfunctioning. Thus, they find widespread usage in different fields like science, telecommunication, engineering, and medicine.
These devices come in two different varieties, PC oscilloscope and handheld. For individuals working with vehicles, the handheld variety is more preferable because it allows for ease of movement and portability. Technicians doing fieldwork prefer the PC variant because they provide more in terms of efficiency and precision.
Whatever your preference is, you would only want to purchase the best quality device that would give you accurate and efficient performance for years to come. In this regard, it is wise to have some product knowledge as it would help you make an informed decision.
BEST FUNCTIONALITIES
Hantek 1008C PC USB 8CH Automotive Diagnostic Digital Oscilloscope
2.4MSa/s, 12bits
DAQ card function
Cost-effective 8 channels oscilloscope for vehicle testing
8 channels programmable generator which can analog signals of crankshaft, camshaft etc.
The Hantek 1008C is equipped with the latest technology and you can use it to find faults in your vehicle's electrical system or modify any security system. It is specially designed for vehicles and automobile mechanics around the world swear by it due to its durability and robustness. It is a versatile unit using which you can carry out several kinds of tests.
Best features
We should first talk about how compact this device is, but despite its lightweight build, it does not sacrifice much in terms of features and efficiency.
The Hantek 1008C has 8 channels and you can easily carry it around in your pocket. Apart from the impressive sample rate of 2.4 MSa/s, the device also possesses a crankshaft, throttle position, distributor, lambda, and airflow meter.
If you are looking to buy an oscilloscope chiefly for vehicle testing, this is the best option for you. While other devices only have one cylinder displaying the ignition waveform, this one can display it in multiple cylinders at the same time. It is ideal for analyzing ignition and exhaust gas.
Another great feature of this device is the data acquisition system consisting of actuators, sensors, and DAQ hardware, and software that you can program as per your requirements. The system is built using a DAQ card, which allows you to measure physical and electrical phenomena.
The Hantek 1008C gives you the freedom to carry out different functions like simple maths, cursor measurements, time, and voltage. Furthermore, using this device you can record waveforms for a long time at a stretch. You can also observe the analog signals associated with crankshaft and camshaft using this oscilloscope.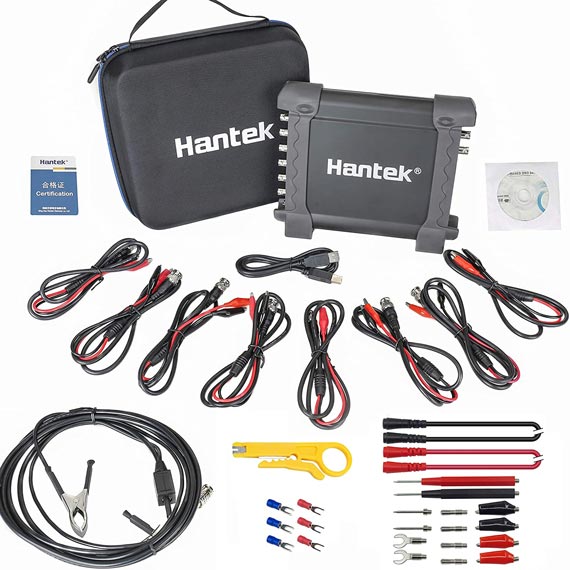 Extremely lightweight and portable
Can be used with different software types
8 different channels
Diagnostic report can be printed
Windows 10 does not support it
The sample rate is lower than what's advertised
---
BEST OVERALL
Autel MP408-Basic MaxiScope Basic Kit
Features one-click auto setup of voltage scale and time base
Reads and displays electrical signals in high resolution waveforms
Works on all makes and models of modern vehicles
Compatible with LIN, CAN and FlexRay data bus standards
The Autel is an automotive oscilloscope that has 4 channels and can be used along with a PC or tablet. It is a powerful diagnostic tool, and with it, you can better understand how the electronic circuits inside your vehicle work. This device has a simple user interface and using it you can know exactly how the electronic circuits inside your vehicle work.
Best features
The best thing about this device is that it allows you to set up the time base and voltage scale automatically with a single click. It is designed to work on all modern vehicles and is compatible with different data bus standards like FlexRay, CAN, and LIN.
Using the MaxiScope MP408 you can generate high-resolution waveforms representing electrical signals after taking the readings. Moreover, you can manually edit the measurement parameter display and save waveform data to review it later.
The control panel of this device has 4-channels and is color-coded for your convenience. The user interface is specially designed for you to adjust the trigger point easily and to display scale info in real-time. Furthermore, you can connect it to your PC via the USB port to provide direct power.
The Autel MP408 allows you to perform a free update online by connecting the device to the internet. Finally, it has a
durable construction
, with a rubber boot and solid housing for added protection.
Color-coded control panel
Waveforms displayed in high resolution
Playback and record functionalities
Compatible with multiple data bus standards
Accessories are a bit fragile
No horizontal or vertical zoom
---
BEST EFFICIENCY
Autel MaxiSys MS906BT Automotive Scan Tool
31 service options, including Oil Reset, EPB, ABS Bleed, SAS, DPF, BMS, IMMO keys, Injector, Suspension, Throttle, VGT, Trans Adaptation, Power Balance, Win/Dr/Roof, and etc.
OE level diagnostics: read and clear codes, view live data, retrieve ECU info, perform vehicle-specific active tests, ECU coding
Bi-directional control for specific car systems
The MaxiSys MS906BT is the latest offering from Autel as a part of their MaxiSys series. This is a unique tool in the sense that it is bi-directional and can both receive and send data effortlessly. Using this device, you can diagnose and troubleshoot any problems with your car quite efficiently.
Best features
The first thing you will notice about the MaxiSys MS906BT is the large screen that is easy to navigate because of its tablet-like design. Whether you are working in a large or small area, this device will serve you well since it can detect enhanced trouble codes.
One of the best features of this device is the Bluetooth MaxiVCI system using which professional mechanics and car owners can do diagnostic tests on their vehicle by remotely accessing it, given they are inside the coverage area for OE. Furthermore, it is fitted with Auto-Vin technology, which tells you about the model, makes, and year of the vehicle.
This is a powerful tool that lets you carry out a maximum of 21 functions. Servicing and diagnosing your vehicle becomes easy with this tool, owing to the ECU coding system fitted in it, using which you can link the device to your vehicle using VCI. However not all vehicle brands support this coding system.
Other notable features of this device include data transmission capability via USB connection or Bluetooth. This makes it possible for you to perform EPB service and other functions like SAS calibration, ABS/SRS, oil reset, and DPF regeneration using this oscilloscope.
The product comes with a one-year warranty and you can install updates for free for up to 12 months. The functionalities and coverage of this tool are improving day by day owing to the regular updates.
Supports multiple functions
Equipped with multiple accessories
Both sends and receives information
12-months warranty
Not suitable for all vehicles
A bit too heavy to carry around
---
BEST UTILITY
Allsun EM1230 2 in 1 Handheld Digital Storage Oscilloscope
2-channel,25MHz digital storage oscilloscope
True 6000 words RMS digital multimeter
100MSa/s real-time sampling rate, 25MHzreal-time bandwidth
Automatic tracking measurement, large dynamic measurement range
Technicians working in the field prefer the Allsun EM1230 because of its multiple functions and its compact form, which allows for easy portability. It finds usage in different fields like research and education as well as phone repair. This dual-channel oscilloscope has a real-time bandwidth of 25MHz and a sampling rate of 100MSa/s.
Best features
This portable automotive oscilloscope supports two languages and has durable ABS material on the exterior. With its DMM and oscilloscope functions, you can capture waveform automatically, perform both single and dual cursor measurements, and perform display processing on a waveform.
Another great feature of this device is the automatic measurement tracking which works on an input signal delivered externally. This allows for the adjustment of trigger stalls, horizontal time base, and vertical amplitude without you manually intervening.
The dynamic measurement range for the Allsun EM1230 is quite vast, and using it you can perform dynamic measurements between 10mV/div and 500V/div. On the device screen, you can see 4 different parameters for measurements. You have the option of selecting between period, peak, average, frequency, and RMS, in a maximum of 22 parameters.
The TFT LCD screen on this automotive oscilloscope has a resolution of 320*240 and it allows you to view the waveforms and readings quite clearly. Furthermore, its recorder lets you maintain a track record of events for up to 12 hours. The USB interface is another handy feature, as you can connect the device to a PC quite easily for further testing and analysis.
A great oscilloscope should have an easy-to-use interface, and the EM1230 provides just what's needed for easy operation. There is a single button by pressing which you can turn automatic ranging on or off. By keeping it on, you can track the signal by searching for the best time base and range.
6000 counts true RMS digital multimeter
Vast dynamic measurement range
Can be used as an oscilloscope or as a DMM
Dual cursor measurement modes
Slow recording function
Instructions not present
---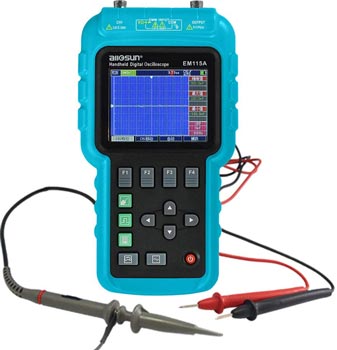 BEST LOOKING
AllsunEM115A Handheld Digital Oscilloscope Portable Automotive
The bandwidth is 50 MHz, the sampling rate is 200 MSa/s
320*240 mm high-resolution color-screen
6000-count high-precision multimeter chip
If you need to perform some basic measurements on your oscilloscope, the EM115A from Allsun would serve your purpose quite well. With a colored screen having a resolution of 320 * 240, a bandwidth of 50Mhz, and a 200Msa/s sampling rate, this device is ideal for field application.
Best features
The EM115A has a highly precise multimeter chip with a count of 6000 and an NPX chipset for intelligence collection. Because of this, it serves the function of a signal generator, multimeter, and scope. So essentially, this device is a single-channel oscilloscope, a signal generator, and a precision multimeter packed into one compact instrument.
Since it is portable, it does not have rescaling of Fourier Transform capabilities like traditional oscilloscopes, and also it has only one channel. You can charge this device while you are traveling since it has a rechargeable battery. It is best to use this device with a bench-top oscilloscope, as multimeter functions are available with it.
Using the multimeter, you can carry out a
diode test
and measure things like resistance, capacitance, continuity, and voltage. You can perform continuity tests with this device, which is not very common with models that have LCD displays. This automotive oscilloscope has a solid build and a rubber protector that saves it from impact.
One of the factors that can cause a bit of an inconvenience is the USB and charging ports that are covered which are sealed with a screw. So every time you need to charge the device, you have to unscrew the cover, which can get a bit tiresome. Of course, you can use the device by unscrewing the cover permanently.
The device interface is quite user-friendly and the menus are highly intuitive, so you won't face any problems while working with this oscilloscope in the field. Along with it, you also get a tool that lets you adjust the scope probe, multimeter probe leads, a scope probe, and a USB cable.
Extremely portable device
Intelligent menu system
Multiple trigger modes available
Dual cursor measurement modes
The instruction manual is not very clear
Accessibility issues with power and USB ports
---
BEST PRICE
STARTO Handheld Digital Oscilloscope Kit
Channel: 1 Analog Bandwidth: 0 – 200KHz. Sensitivity: 5mV/Div – 20V/Div
Maximum Input voltage: 50Vpk. Includes a 9V power adapter.
Display: 2.4 inch color TFT LCD with 320 x 240 resolution
Couple switch: Set couple to DC, AC, or GND.
This oscilloscope has a DSO shell and you can use it to greatly reduce assembly time and solve problems in the welding process. Compared to other oscilloscopes, this one has ore sensitivity in terms of both height and width. It is able to reach an input sensitivity of 5mV/div to 20V/div, in contrast to other devices that can only manage 10mV/div to 5V/div.
Furthermore, this device has a rotary encoder, which allows you to make adjustments to the parameters quickly and efficiently. Along with the product comes a 9V adapter, so you can readily plug it in and start your operations. This also means you don't have to spend additional money for buying a power adapter.
The instruction manual included with the product contains detailed instructions along with a schematic and troubleshooting guide. It only weighs 5 lbs so you can easily carry it around and use it as required in the field.
Greater sensitivity range compared to others
Detailed instructions provided
Power adapter included
Easy and quick parameter adjustment
Does not shrink too well
Not a 3M product
---
How to Use an Automotive Oscilloscope
The controls on an automotive oscilloscope may seem a little too complicated at the beginning, while with a little practice you can familiarize yourself with the controls. After that, using the device becomes much easier. Here are the steps you need to follow in order to generate satisfactory results with an automotive oscilloscope.
1. Turn on the power
Although this is quite obvious, it is the first step where you need to press the switch labeled "Power" or "Line". After that, you will be able to see the power indicator light which indicates that the oscilloscope is now ready to operate.
2. Wait for the display to appear
These days, most of the oscilloscopes you find in the market have displays that are based on semiconductors in contrast to earlier, where cathode ray tubes were mostly used. You have to give the device a little time to warm up, waiting for the electronics to charge before you can see the display. Normally, you only need to wait for a minute or so before you can start working with the device.
3. Find the trace
Once you can see the display and the oscilloscope is ready to use, you need to find the trace. Before you start using the device for detecting waveforms, you need to complete the step, setting the trigger point at the center and rotating the hold-off counter-clockwise, followed by centering the control of the horizontal and vertical position. After that, you should be able to detect the trace, but in case you cannot find it, you should press the "beam finder" button.
4. Set the timebase speed
It is vital that you fix the timebase speed on an automotive oscilloscope, and based on what you wish to see, the actual setting will vary. For example, the width of the screen is 12 cm and the waveform period is 10 ms, you should set the timebase speed as 1 ms cm.
5. Apply signal
After you've set the controls correctly, it is time to apply the signal. As a result, you should be able to detect the image.
6. Adjust the trigger
Notwithstanding the positive or negative-going edge of the trigger, you must fine-tune the trigger at this point. The trigger level dictates the point on the waveform where the timebase is triggered, starting the waveform trace as a result and additionally the option that gets triggered is important so you need to perform some adjustment to generate the required image. To get the best possible image, you need to have the proper vertical gain and timebase controls.
---
Best Automotive Oscilloscope – Buying Guide
An automotive oscilloscope is great for observing slow-charging analog signals, current waveforms, charging currents, inductive sensors, etc. It allows you to visualize the ignition spark process, solving sporadic issues, and showing ignition waveforms on multiple cylinders at the same time.
Before buying an automotive oscilloscope, you need to consider things like where you plan to use it and for what purpose. Different brands have their own costs and specifications and as such, it is not easy to make a decision in this regard. Let us look at some of the most important features you need to consider before making a purchase.
Bandwidth
This is the topmost frequency of an electrical signal that you can display using the scope. If you wish to see an accurate representation, you must make sure the bandwidth of the device exceeds the maximum signal frequency. However, you should remember that higher bandwidth devices are more expensive, so you need to use your best judgment in this regard.
User Interface
This is an important factor to consider since many oscilloscopes are meant to be used for scientific and industrial purposes and they don't have the required functionalities and can't measure vehicles without the presence of adapters. The user interface must have the scope for editing and adding new inputs and custom waveforms. Additionally, it must allow you to visualize the ignition spark process clearly and show the cylinders in a parade fashion.
Sampling Rate
This is defined as the number of instances per second for which the oscilloscope samples the circuit. Usually, there are two modes or sampling rates for these devices, namely equivalent-time sampling and real-time sampling. While buying an automotive oscilloscope, you should get one with equivalent-time sampling, since it is only suitable for periodic signals.
Memory Depth
This is the buffer memory size for storing captured data in the device. When the memory depth is more, you can keep a higher sample rate for much longer. While a low memory depth prevents you from capturing the waveforms accurately, an extremely big memory depth means you have to perform manual scanning in order to find an event and deal with an extended lead time.
Channels
A single channel oscilloscope can be used to quickly assess and detect a signal while double-channel devices are best used for camshaft and crankshaft correlation, or detecting signals generated by injectors, coil waveforms, and sensors. An automotive oscilloscope with four channels or more can be used to deal with a situation where your vehicle breaks down and refuses to start.
---
Best Automotive Oscilloscope – Conclusion
If you are looking for the best automotive oscilloscope, you can select one from the list above. However, you also need to consider your budget while buying a device, along with the other critical factors that will determine its performance. Armed with this knowledge, you can make a wise decision regarding which device would serve you best.
Did you like our Best automotive oscilloscope review? Please let us know and don't forget to check our other review.
Best DC Power Supply – could be interesting for you!