USB oscilloscopes have become important tools for businesses, engineers, and even hobbyists. Right from entry-level to pros, they are gaining a lot of popularity today. USB oscilloscope, as you may have guessed, can be connected to your computer or laptop device for a wide range of work. Right from pocket-friendly models to high-end ones, you will find a wide range of sampling scopes with decent bandwidth in the market.
This combination of processing power, portability, and new features means that USB oscilloscopes are now in greater demand than their benchtop counterparts, which offers them a real advantage.
Thanks to the computer interface, the processing, and editing of files become easier and you also have the option of developing your programs to control the oscilloscopes. USB oscilloscopes are also portable, which makes them perfect for carrying around in almost any type of work environment.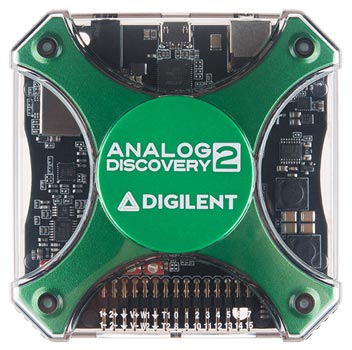 BEST OVERALL
Diligent Analog Discovery Systems Kit: USB Oscilloscope & Logic Analyzer
Two Analog Inputs (±25V, differential, 14-bit, 100MS/s, 30MHz+ bandwidth)
Two Analog outputs (±5V, 14-bit, 100MS/s, 12MHz+ bandwidth)
Stereo audio amplifier with replicated AWG signals
16 Digital I/O (3.3V CMOS and 1.8V or 5V tolerant, 100MS/s)
The Diligent Analog Discovery Systems Kit2 is a USB oscilloscope and logic analyzer that is considered the best in the market. However, it also functions as a network analyzer, pattern generator, DC power supply, and waveform generator. While it is not exactly cheap, it will provide you with everything that you need in a high-end oscilloscope.
Best features
Once you open the packaging, you will see the device with some wires in it – this only means that the software is everything. Thankfully, the software is cross-platform and is fitted with a lot of features. You will see some buttons – the leftmost one will display everything that is going on in the device while the send one will allow you to turn on the hot track curser.
It is a 16-channel scope and packs more than needed. Apart from the 16-channel pattern generator and logic analyzers, the Analog Discovery Systems Kit 2 also has an in-built stereo audio amplifier so that you can listen to the AWG signals via speakers or external headphones.
Additionally, it also has great software that is fitted with all the things that you would require like
impedance analyzer, spectrum analyzer, and 2-channel data logger
. It is compatible with Linux, Windows, and Mac and can be powered via the USB hub. The sampling rate is quite high (100Ms/s) as well as the bandwidth (30MHz).
The device is portable and lightweight
The scope features 16-channel logic analyzers
The software is highly updated
The sampling rate and bandwidth are high
The device is quite expensive
Using the scope may feel very overwhelming
---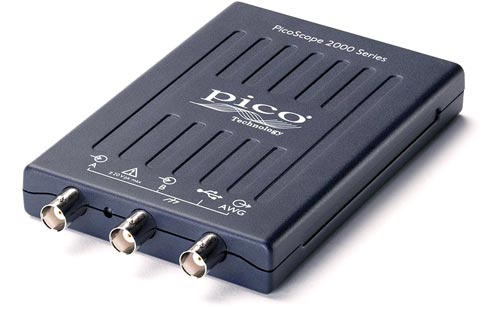 BEST PRICING
PicoScope 2204A USB Oscilloscope
Scope 2204A 2 channel 10 MHz, 8-bit oscilloscope with probes
10 MHz bandwidth, 1 GS/s sampling
Advanced digital triggers
Arbitrary waveform generator
The PicoScope 2204A is considered a very decently-priced oscilloscope device that you can choose if you are a beginner. It is fitted with a lot of features that you will only find in high-end devices. It is a safe choice and has earned rave reviews from scope experts.
Best features
The PicoScope 2204A is a low-noise and high-impedance A/D converter that will provide you with a high sampling rate. While the triggering based on digital data is available in the software, the scope can also perform the same function on digitized data.
Setting up this device is very easy – all you need to do is plug it into your computer. Additionally, the software can be downloaded via the manufacturer's site. It is a two-channel device that is worth the price. It is fitted with different PWM generation modes and an in-built D/A converter, which works very well.
The PicoScope 2204A is also fitted with a serial decoder that will help in debugging unresponsive chips with ease. This feature will help understand whether your signal is being recorded correctly. If the device address is wrong, you will get to know about it very easily.
For a very decent price rate, the signal generator is quite powerful
The SDK will allow you to capture the data very efficiently
While the build of the scope is light, it is very durable
The desktop footprint is very small
The buffer is fine for viewing, not for recording signal
The data capture rate is not more than 2-3 Ms/s
---
BEST PORTABILITY
Hantek HT6022BE20Mhz 6022be PC Based USB Digital Storage Oscilloscope
2channels 20MHz USB oscilloscope
USB2.0 interface, no external power source required, easy to use
High performance, 48MS/s real-time sampling, 20MHz Bandwidth
23 measurement functions, PASS/FAIL Check, be suitable for technical application
The Hantek HT6022BE20Mhz is considered another top option if you are looking for an affordable and practical oscilloscope. The company is known to manufacture top-of-the-line products and this is the best benchtop scope that comes in black color.
Best features
The Hantek HT6022BE20Mhz is an effortless scope that is very easy to understand and use. Thanks to the ease of use factor, even beginners can make use of the Hantek HT6022BE20Mhz. You do not have to carry a lot of things to work since it is fitted with all the functionalities in its compact size.
Sadly, it does not have an external power source; however, you can easily connect it to your computer device and you are good to go.
The Hantek HT6022BE20Mhz is fitted with
two channels and the bandwidth is 20MHz
, thereby helping you detect different signals without any problems. Additionally, the
sampling rate is 28Ms/s
, which is quite high compared to other scopes.
It also has top-grade accuracy and a refresh rate, which is the best in the field. The case is made of anodized aluminum, which ensures durability.
There is no external power source
The device can work on any version of Windows
The sampling rate is extremely high
One of the most affordable scopes in the market
The software installation process is lengthy
The length of the USB cable is very short
---
BEST FUNCTIONALITIES
Owon VDS1022I USB PC Virtual Oscilloscope
Dual-channel input design
25MHz bandwidth, 100MS/s sampling rate
5K memory depth, sensitivity up to 5Mv
Lightweight and portable design with USB 2.0 interface
The Owon VDS1022I is a small oscilloscope that is easy to carry around. While the size may be small, it is fitted with several features that you can use for a relatively low price rate. Hence, if you are looking for a well-built scope on a low budget, then the Owon VDS1022I is considered the best option.
Best features
One of the first things you will notice about the Owon VDS1022I is its small built, which allows transportation easier. It can easily fit into your hand and does not weigh a lot as well – which only adds to portability.
While it is small, it does not lack functionalities. It can be used in a wide range of projects that normally use standard-sized oscilloscopes. The display is large so that you can read the signals and information easily. The controls are very decent and fitted with soft buttons.
The user interface is very friendly and you do not have to move much around the buttons. While the design of the scope could have been better, it is more than enough to get your job done easily. It is a perfect device for both amateurs and professionals.
The overall built and quality of the scope is reliable
The small size allows easy portability
The device is fitted with a multi-trigger option
The pricing is very affordable
The design of the device could have been better
There have been some complaints related to the software
---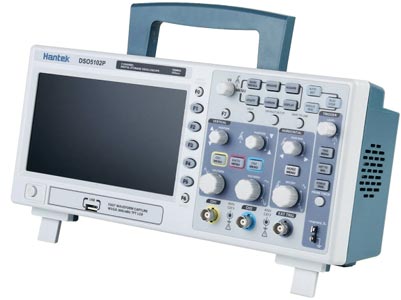 BEST DESIGN
Hantek DSO5102P Digital Storage Oscilloscope
100MHz bandwidths;1GSa/s Real Time sample rate
Large (7.0-inch) color display,WVGA(800×480);Record length up to 40K
Trigger mode: edge/pulse width/line selectable video/slop/overtime etc
USB host and device connectivity, standard
When we are talking about scopes with good looks, then the Hantek DSO5102P is a great choice. Apart from the overall design, it is also packed with some remarkable features. This device will definitely exceed all your expectations.
Best features
The Hantek DSO5102P is fitted with a sample rate of 1Gsa/s and bandwidth of 100Mhz; this means that the sample rate is quite high and will aid in a wide range of projects by helping you detect the signal readily and easily.
This scope is fitted with a large screenthat measures approximately seven-inches and will help you view the signals easily. The screen will allow you to overtime, slop, and view whenever you require. You can connect the Hantek DSO5102P via USB cable to your computer at any time.
The device is fitted with four different math functions, which include the FFTs standard. Additionally, the software can also be used for multiple automatic measurements and real-time analysis. While the transition may feel rough, it eventually smoothens out.
The scope is fitted with features like automatic measurements and math functions
The connectivity options include USB host and device connectivity
The device is fitted with several trigger modes
The display is quite large
The power button is quite inferior
The transition from the sliding wave to the time scale is a bit rough
---
Best USB Oscilloscope – Buying Guide
When you are looking for a new USB digital oscilloscope, a lot of questions may arise in your head – you may feel very daunting. Thankfully, there are some common factors that you need to consider on all digital oscilloscopes, whether they are USB or benchtop variants:
Form factor
You will find a wide range of digital oscilloscopes today – USB-based (or PC-based), handheld, and the traditional. The traditional benchtop variant will provide you with the best performance and can be used almost immediately; however, its cost will be high. At an added cost, you can also fit decoding options and mixed-signal capabilities. On the other hand, hand-held oscilloscopes will prove to be more advantageous for an engineer on the move; however, their battery life can be quite short and often difficult to read in direct sunlight.
PC-based oscilloscopes are often considered as money-savers over their traditional benchtop variants. Additionally, these devices also have a keyboard for annotations, storage and data-sharing capabilities, faster processors, and a large color display.
PC-based oscilloscopes are available in two different options – internal and external. Internal oscilloscopes are mostly in the PCI or PCIe format and used as plug-in cards. They are mostly tied to a single computing system. On the other hand, external PC oscilloscopes are available in portable sizes and can be connected to your computer via the USB port.
USB oscilloscopes can be used on your laptop or computer devices, which make them perfect for field use, debugging tasks, etc. Some of these devices are also fitted with isolated adapters and inputs solely for vehicle investigations.
Bandwidth
The bandwidth can be defined as the maximum frequency of a signal that passes through the amplifiers on the front. Most oscilloscope manufacturers state that the bandwidth can be said as the frequency at which a sine wave input signal gets attenuated to 71% of its true amplitude (-3dB point). This means that the displayed trace will showcase a 29% amplitude error. However, the input signal may also contain higher frequency harmonics if it is not a pure sine wave.
For instance, let us consider that you are viewing a 20MHz pure square wave on a 20MHz bandwidth scope, which will be shown as a very distorted and attenuated waveform. Hence, it is always recommended that you purchase an oscilloscope with 5x higher bandwidth than the frequency that you want to measure. Additionally, you also need to be aware that the quoted bandwidth is not available on all voltage ranges.
Sample rate
When it comes to any type of digital oscilloscopes, the memory depth and sampling rate are two very important considerations you need to remember. According to the Nyquist criterion, the sampling rate needs to be at least twice the maximum frequency that you wish to measure. When it comes to a spectrum analyzer, this statement holds – however, for a scope, it needs to be a minimum of five samples if you want to reconstruct a waveform with maximum accuracy.
Most oscilloscopes offer two different types of sampling modes/rates, which will depend on which signal is being measured – equivalent time sampling (ETS or repetitive sampling) or real-time. A signal can be classified as ETS if it is repetitive and stable, which will help you build up a waveform from successive samples.
Different scopes will provide you with different sampling rates that depend on the available number of channels.
Number of available channels
There are USB oscilloscopes that are fitted with two different channels so that you can maintain the timing of two separate channels. Additionally, you also have devices that are packed with more channels for intricate jobs like cars and motors. Some have more than eight channels and can be synchronized if you are looking for extra features.
Waveform capture rate
The rate of capturing waveform is means the rate of the acquiring waveforms of the oscilloscope. If you deal with infrequent and random debugging problems, then this rate is considered very important. This will also help you determine the device's probability of measuring and displaying infrequent and random events.
Memory depth
For oscilloscopes, the memory depth is often considered the minimum requirement. However, it should be considered an important consideration because all the samples will be saved in the buffer memory.
The size of the memory will determine how long a signal can be captured before the memory becomes full. If the sample rate is high and the memory is low, you will be able to use the sampling rate for very few timebases. With the help of a larger memory base, you will also be able to deal with infrequent, fast, and small glitches.
Accuracy and resolution
Today, you will find that almost all oscilloscopes are fitted with eight-bit A/Ds. This means that the voltage range can be separated into 256 vertical steps. If you select the /-1V range, you will get approximately 8mV per step. While it is fine for looking into digital signals, it is not an ideal choice for analog signals, specifically when you are using the device's FFT spectrum analyzer function.
As for digital oscilloscopes, the change up to 1% for a signal can be done without any issues. However, analog electronics like audio can be disastrous like 0.1% noise or distortion. With an 8-bit resolution, the oscilloscope can easily detect a signal change of 0.4%. For applications like monitoring, vibration, noise, and audio sensors, you should consider alternatives like 12- or 16-bit oscilloscopes, not the 8-bit ones.
Triggering capabilities
The trigger function of an oscilloscope mostly synchronizes the horizontal sweep when it reaches the right point of the signal. If you are looking for a steady display and clear signal characterization, then this is an important consideration. All USB-based oscilloscopes provide the same triggering options like pre/post trigger, slope, level, and source.
However, you will also find advanced trigger functions. For instance, pulse triggers will help you with digital signals. Often, oscilloscopes today also offer mask and pass/fail capabilities.
Probes and input ranges
For most oscilloscopes, you will find input ranges mostly between +/- 50mV and V. The most important function is to look for an oscilloscope that will provide you with enough voltage range for anticipated signals.
For ranges less than 50mV, you need to look for scopes with a resolution of 12- or 16-bit. For higher bits, you can also zoom into the microvolt and millivolt signal levels.
Connectivity
Most oscilloscopes today will provide you with a wide range of connectivity capabilities like USB 2.0 interface, LAN, and RS-232 for controlling and downloading data. There are also those that are fitted with memory stick inputs so that you can transfer the data into your computer.
Then, others will allow you to export the waveform made for Excel files and also store pictures in the form of jpg format.
In-built capabilities
There are some types of capabilities that you would want to have in your oscilloscope like math functions, in-built pass/fail analysis and relay output, automatic measurements, etc. Others are fitted with features like FFT capabilities, storage for reference waveforms, measurement statistics, etc, thereby allowing you to look into modified frequency spectra and modified signals.
If you average the readings, you will also be able to eliminate noise problems. With the help of digital persistence, you will also be able to spot glitches more easily. The math capabilities will allow you to scale, divide, multiply, subtract, add, and invert channels or create new functions too.
Ease of use
Some oscilloscopes provide automatic setup or other types of memorized setup configurations, which will make the device easy to use. Others include an in-built setup process that will help you understand the setup procedure without having to go through the manual repeatedly.
Then, some oscilloscopes are fitted with trigger levels, trace position, time-base, vertical sensitivity, and other types of adjustments; they have also replaced cheaper buttons with user-friendly rotary knobs.
Alternatively, you can also download the manual of the oscilloscope from the manufacturer's website that will help you understand how to set up and operate the oscilloscope, all while you are also concentrating on the circuit that is being tested. Always look for scopes that will save you from technical problems and frustrations later.
Additionally, always look for oscilloscopes whose software can be upgraded for free or is available with ease. You would also want to check the length of the warranty period; this is important because if the device fails to work, you would not want to spend a lot of money trying to fix the unit.
MSO ready
If you are looking for the digital debug function in the oscilloscope, you may have to look into a mixed-signal oscilloscope. There are some scopes that are fitted with MSO sockets right on the front so that you can upgrade whenever you feel it is convenient – these sockets are mostly with 8 or 16 sockets.
In-built AWG
If you want to source signal for testing or perform sweep tests for frequency response, look for scopes that have in-built AWG functionality. With the help of AWGs, you can easily supply common waveforms like pulses, sawteeth, square waves, and sine waves. Additionally, they are also compatible with computer software so that you can create customizable waveforms. One of the best features about AWGs is that you will be able to capture the input signal of scope and keep producing it continuously.
---
Best USB Oscilloscope – Final thoughts
A USB-based oscilloscope is considered the best option if you work entirely with signals. However, the type of device you choose will determine how easy your work is. The scopes mentioned above are some of the top choices in the market today. You can easily choose any of these, depending on your work and preferences.
Did you like our Best USB Oscilloscope review? Please let un know and don't forget to check our other reviews.
Best Digital Oscilloscope – could be interesting for you!